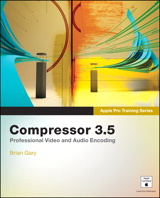 Description
This Apple-authorized guide offers a self-paced, step-by-step approach to Compressor 3. Whether students are distributing dailies, authoring a DVD, or prepping video clips for the Web, Compressor is essential for creating quality digital content. Author Brian Gary teaches them real-world techniques for audio and video compression, batch-encoding, test-clip workflows, exporting podcasts, and more. The guide also provides a great summary of what's new in Compressor 3 including Blu-Ray Disc and DVD Burning; new batch templates; auto detect settings, and more.
Purchase Info ?
With CourseSmart eTextbooks and eResources, you save up to 60% off the price of new print textbooks, and can switch between studying online or offline to suit your needs.
Once you have purchased your eTextbooks and added them to your CourseSmart bookshelf, you can access them anytime, anywhere.
Buy Access
Apple Pro Training Series: Compressor 3.5, CourseSmart eTextbook
Format: Safari Book
$19.99 | ISBN-13: 978-0-13-212174-3