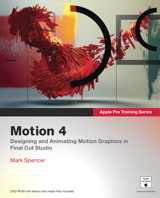 Description
In this best-selling guide to Motion 4, you'll create eight sophisticated projects including a 3D show promo, a network-style title sequence, a DVD motion menu, and an actual temp effect used in Overture Film's Traitor. Each chapter represents a complete lesson, with a commercial-quality project to work through as you learn. Master trainer Mark Spencer starts with the fundamentals of motion graphics and quickly moves into compositing, animation, motion graphics design, visual effects design, and the world of 3D. The book is fully revised to take advantage of the software's new features: you'll explore 3D shadows, reflections, and depth of field; "fly" a camera from one object to another; ripple text characters on and off the screen with ease; animate date and time sequences automatically; and master Motion's remarkable new linking behavior. Along the way, you'll work with particles, generators, filters, effects, templates, greenscreen mattes, keying, tracking, paint, and more. Whether you're just entering the field or are already an accomplished motion graphics pro, this book will have you designing in Motion in record time.
DVD-ROM includes lesson and media files
Focused lessons take you step by step through real-world projects
Accessible writing style puts expert instructors at your side
Ample illustrations help you master techniques fast
Lesson goals and time estimates help you plan your time
Chapter review questions summarize what you've learned and help you prepare for the Apple Pro certification exam

Table of Contents
Getting Started
Fundamentals
Lesson 1 Getting Around in Motion
Lesson 2 Building a Composite
Lesson 3 Working with Templates
Lesson 4 Using Motion with Final Cut Pro
Lesson 5 Sharing Your Project
Animation
Lesson 6 Creating Animation with Behaviors
Lesson 7 Animating with Keyframes
Motion Graphics Design
Lesson 8 Creating Content with Generators, Shapes, and Paint Strokes
Lesson 9 Creating Text Effects=
Lesson 10 Working with Particle Emitters and Replicators
Lesson 11 Using Audio
Visual Effects Design
Lesson 12 Speed Changes and Optical Flow
Lesson 13 Stabilizing and Tracking
Lesson 14 Keying
An Introduction to 3D
Lesson 15 Building a 3D Scene
Lesson 16 Animating Cameras and Using Advanced 3D Features
Index
Purchase Info
ISBN-10: 0-321-67958-X
ISBN-13: 978-0-321-67958-1
Format: Safari PTG
This publication is not currently for sale.