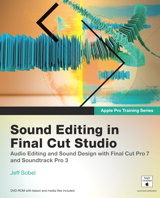 Description
This Apple-certified guide is appropriate for beginning to intermediate level Digital Video or Film courses that focus on audio editing and sound design using Final Cut Pro 7 and Soundtrack Pro 3. The author will have students working seamlessly between Final Cut Pro and Soundtrack Pro.
Using footage from the hit TNT show Leverage and the gorgeous HD documentary OneSixRight, this step-by-step guide starts with sound editing and mixing basics in Final Cut Pro, and moves on to the fine points of fixing audio files, working with the frequency spectrum, recording and editing dialogue, and spotting sound effects in Soundtrack Pro. Finally, students will score a sophisticated multi-track montage sequence, and mix and conform it to professional standards. The accompanying DVD-ROM includes lesson and media files.
**Please note:

1). This book replaces Apple Pro Training Series: Soundtrack Pro 2 (ISBN 0-321-50266-3).
2). There is an Apple Pro Training Series Product Guide posted to the Document Library that you can print and share with your professors.
http://highered.pearsoned.com/doclib/directory_listing.cgi?id=36719
Table of Contents
Getting Started
Lesson 1 Sound Editing Basics
Lesson 2 Sound Mixing Basics
Lesson 3 Getting to Know Soundtrack Pro
Lesson 4 Fixing Audio Files
Lesson 5 Editing in Frequency Spectrum View
Lesson 6 Recording in Soundtrack Pro
Lesson 7 Editing Dialogue
Lesson 8 Automated Dialogue Replacement Using the Multitake Editor
Lesson 9 Spotting Sound Effects
Lesson 10 Scoring Using Loops
Lesson 11 Advanced Mixing Techniques
Lesson 12 Conforming Multitrack Projects
Glossary
Index