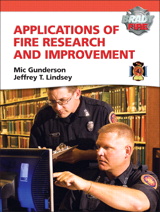 Description
Written to the FESHE baccalaureate curriculum for the Applications of Fire Research and Improvement course, this first edition text offers real world applications to demonstrate the use of research in the fire service. With thirteen chapters and FESHE and NFPA references and guidelines throughout, this text is a useful resource for all fire service professionals interested in research.
Table of Contents
Chapter 1: Introduction to Research
Chapter 2: Reviewing the Literature
Chapter 3: Performance Management
Chapter 4: Defining and Measuring the Problem
Chapter 5: Analyzing Baseline Results
Chapter 6: Improving the Process
Chapter 7: Maintaining Control
Chapter 8: Qualitative Research
Chapter 9: Ethical Considerations
Chapter 10: Disseminating and Archiving Results
Chapter 11: Sources for Research on Fire-Related Activities
Appendix A The National Fallen Firefighters Foundation
Appendix B NFSRA - Report of The National Fire Service Research Agenda Symposium
Purchase Info ?
With CourseSmart eTextbooks and eResources, you save up to 60% off the price of new print textbooks, and can switch between studying online or offline to suit your needs.
Once you have purchased your eTextbooks and added them to your CourseSmart bookshelf, you can access them anytime, anywhere.
Buy Access
Applications of Fire Research and Improvement, CourseSmart eTextbook
Format: Safari Book
$38.00 | ISBN-13: 978-0-13-218092-4