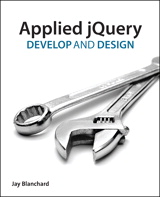 Description
Applied jQuery teaches readers how to quickly start writing application interfaces. The beautifully designed book offers practical techniques and provides lots of real-world advice and guidance. The Author, Jay Blanchard, has practical experience working in the field and wastes no time getting to the instruction, taking the reader from a beginner to a proficient interface programmer by the end of the book.

Purchase Info ?
With CourseSmart eTextbooks and eResources, you save up to 60% off the price of new print textbooks, and can switch between studying online or offline to suit your needs.
Once you have purchased your eTextbooks and added them to your CourseSmart bookshelf, you can access them anytime, anywhere.
Buy Access
Applied jQuery: Develop and Design, CourseSmart eTextbook
Format: Safari Book
$17.50 | ISBN-13: 978-0-13-276738-5