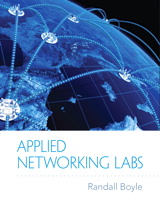 Description
For undergraduate and graduate networking and telecommunications courses that use hands-on labs.

Gain hands-on experience working with networking tools.

Applied Networking and Servers guides students through the installation and basic operation of software used in the field of networking. This book also provides students with hands-on experience using various networking tools.

Table of Contents
Chapter 1: DOS Commands
Chapter 2: Windows Utilities
Chapter 3: Web Tools
Chapter 4: Virtualization
Chapter 5: Packet Analysis
Chapter 6: Network Design
Chapter 7: Wireless
Chapter 8: Internet Information Server (IIS)
Chapter 9: Apache
Chapter 10: Windows Server 2008
Chapter 11: Linux
Chapter 12: Careers in Networking


Purchase Info ?
With CourseSmart eTextbooks and eResources, you save up to 60% off the price of new print textbooks, and can switch between studying online or offline to suit your needs.
Once you have purchased your eTextbooks and added them to your CourseSmart bookshelf, you can access them anytime, anywhere.
Buy Access
Applied Networking Labs, CourseSmart eTextbook
Format: Safari Book
$27.40 | ISBN-13: 978-0-13-231037-6