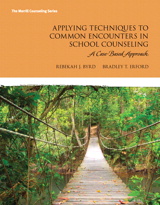 Description
Note: The Enhanced eText features are only available in the Pearson eText format. They are not available in third-party eTexts or downloads, such as CourseSmart.
For school counselors in training
School counseling students learn how to deal effectively with common, real life problems BEFORE they encounter them.
What is it really like to live the life of a professional school counselor? How does the theory presented in the classroom apply to the myriad of situations encountered in a real life, everyday school setting?
This guide helps counselors in training bridge the gap between theory and practice and lets them see how to theoretically frame or understand the problems and issues they encounter, how to proceed, and what action steps to take when they enter the field as school counselors. It's the answer to the search so many beginning counselors make for concrete, grounded, real life examples of how to transfer and apply theory into practice, while developing the confidence necessary to do the job effectively.
In this book, case studies and scenarios give readers examples of many commonly encountered presenting issues. For each scenario the case is introduced, background information is supplied, and initial processing questions are included to aid in conceptualizing the case and taking related issues into account. The authors include a discussion of the theoretical models or frameworks used to address the issue, along with a table segmented by theoretical paradigm and grade level that includes other techniques that could be used in the presenting case. With these tools at their disposal, readers gain a firm understanding of the issues from several frames of reference, along with interventions meant to create movement toward a successful resolution.
Table of Contents
BRIEF CONTENTS
Section I: Introductory and Organizing Principles
Chapter 1: Case Studies in School Counseling by Rebekah Byrd and Bradley T. Erford
Chapter 2: Theories of Counseling by Dana Heller Levitt, Alissa Darnell, Bradley T. Erford, and Ann Vernon
Section II: Social Justice and Diversity Issues in School Counseling
Chapter 3: Social Justice by Rhonda M. Bryant, Tracy Knighton, and Delila Owens
Chapter 4: Advocacy (and the Use of Small Group Counseling for Students with AD/HD) by Melissa Beverly and Joyce A. DeVoss
Chapter 5: Multicultural Counseling in the Schools by Laura Bell and Tammy Davis
Chapter 6: Immigration by Miriam Eisenmenger
Chapter 7: Racism by Helen Runyan
Chapter 8: Existential-Spirituality in School Counseling by Molly B. Quick and Christopher A. Sink
Chapter 9: English Language Learners by Tim Grothaus, Tori Stone, Amy Upton, and Kie Anderson
Chapter 10: Lesbian, Gay, Bisexual, Transgender & Questioning (LGBTQ) Issues in School Counseling by Jeffrey M. Warren and Jenna N. Warren
Section III: Academic Considerations in School Counseling
Chapter 11: Motivating the Unmotivated Student by Tracy MacDonald
Chapter 12: Working with Gifted Children by Elisabeth Bennett and Mary Brown
Chapter 13: College Access by Lindsey M. Nichols
Chapter 14: Counselors in Alternative Schools: The Last Line of Defense by Kimere K. Corthell, Lindy K. Parker, and Catalina Morillas
Chapter 15: Transitions and Student Attendance by Lacey L. Wallace
Section IV: Relational Aggression, Bullying and Violence in School Counseling
Chapter 16: Bullying (Relational Aggression) by Jasmine Graham
Chapter 17: Physical Aggression by Caron N. Coles
Chapter 18: Helping Students Who Are LGBTQ by Brandy K. Richeson and Rebekah Byrd
Chapter 19: Dating and Relational Violence by Laurie A. Vargas and Hugh C. Crethar
Section V: Individual Issues/Coping in School Counseling
Chapter 20: Chronic Illness by Heather McCarthy and Tammy Davis
Chapter 21: Helping Students with Grief and Loss Experiences by Stacy Solsaa and Kelly Duncan
Chapter 22: Addressing Disruptive Behavior in the Classroom Using an Ecological Approach by Adria Shipp and Tara Hill
Chapter 23: Social Isolation by Maegan Vick and Charlotte Daughhetee
Chapter 24: Working with Students Displaying Defiant Behavior by Rebecca Christiansen and Kelly Duncan
Chapter 25: Helping Students with Anxiety by Nadine E. Garner and Brielle E. Valle
Chapter 26: Helping Students with Depression by Tricia Uppercue
Chapter 27: Self-Injury by Audrey Neuschafer
Section VI: Parental/Family Issues in School Counseling
Chapter 28: Working with Families by Denise B. Ebersole and Nadine E. Garner
Chapter 29: Children of Deployed Parents by Lacey L. Wallace
Chapter 30: Children of Divorce by Natalie Grubbs and Catherine Y. Chang
Chapter 31: Helping Children with Incarcerated Parents by Elisabeth Bennett and Tom O'Connor
Chapter 32: Children of Parents who Abuse Substances by Nadine Hartig, Sandy Kay, and Fran Steigerwald
Chapter 33: Physical Abuse by Latisha Walker Nelson
Chapter 34: Helping Students in Poverty by Jasmine Graham
Chapter 35: Working with Samantha, a Homelessness Child by Elisabeth Bennett and Laurie Curran
Section VII: Risky Behavior and Crisis Intervention in School Counseling
Chapter 36: Substance Use by Kami Wagner
Chapter 37: Adolescents, Sex, and STDs by Shannon Trice-Black and Morgan Riechel
Chapter 38: Helping Students with Eating Disorders by Natalie Grubbs and Catherine Y. Chang
Chapter 39: De-escalating Extreme Behaviors/Emotions by Helen Runyan and Tim Grothaus
Chapter 40: Gang Involvement by Christine Ward and Bianca Bekker Willman
Chapter 41: Suicide Prevention by Megan Kidron
Chapter 42: Helping Students Who Experience Disasters and Post Traumatic Stress by Jeffrey Brown and Jill M. Thompson
Section VIII: Legal and Ethical Considerations in School Counseling
Chapter 43: Responsible Technology Use (Social Networking) by Stefanie Johnson and Jeffrey M. Warren
Chapter 44: FERPA Issues in School Counseling by Charlotte Daughhetee and James Jackson
Chapter 45: Confidentiality with Minors by Katie Liebers