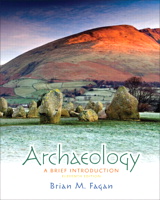 Description
Method and Theory in Archaeology

Archaeology: A Brief Introduction is an introduction to the fundamental principles of method and theory in archaeology, exposing students to archaeology as a career. The text begins by covering the goals of archaeology, and then moves on to consider the basic concepts of culture, time, and space, by discussing the finding and excavation of archaeological sites.
By providing a distinct emphasis on the ethics behind archaeology, and how we should act as stewards of the finite records of the human past, Archaeology: A Brief Introduction continues to be a book with a truly international perspective, not simply focusing on North America or Europe.
Teaching and Learning Experience
Personalize Learning - MySearchLab delivers proven results in helping students succeed, provides engaging experiences that personalize learning, and comes from a trusted partner with educational expertise and a deep commitment to helping students and instructors achieve their goals.
Improve Critical Thinking - Archaeology: A Brief Introduction's "Archaeology and You" chapter provides students with career advice in an era when archaeology is transitioning from predominantly academic to professional.
Engage Students - Each chapter within Archaeology: A Brief Introduction highlights important finds that have shaped our archaeological perspective, and a global perspective that shows students that archaeology is the most global of all sciences, encompassing all of humanity.
Table of Contents
IN THIS SECTION:
1.) BRIEF
2.) COMPREHENSIVE
---
BRIEF TABLE OF CONTENTS:
Chapter 1: Fossils, Cities, and Civilizations: The Birth of a Science
Chapter 2: Introducing Archaeology and Prehistory
Chapter 3: Culture and Context
Chapter 4: Explaining the Past
Chapter 5: Space and Time
Chapter 6: They Sought It Here, They Sought It There: Finding Archaeological Sites
Chapter 7: Excavation
Chapter 8: Archaeological Classification and Ancient Technologies
Chapter 9: The Present and the Past
Chapter 10: Ancient Climate and Environment
Chapter 11: Come Tell Me How You Lived
Chapter 12: Settlement and Landscape
Chapter 13: The Archaeology of People
Chapter 14: Managing the Past
Chapter 15: So You Want to Become an Archaeologist?

---
COMPREHENSIVE TABLE OF CONTENTS:

Preface
Author's Note
About the Author

Chapter 1: Fossils, Cities, and Civilizations: The Birth of a Science
What Is Archaeology?
Discovery Tutankhamun's Tomb, Egypt, 1922
The Beginnings of Archaeology
The Three Ages and the Antiquity of Humankind
The Discovery of the Ancient Civilizations
The Ancient Egyptians
The Assyrians and Sumerians
Troy and Mycenae
Early American Archaeology
The "Moundbuilders"
Maya Civilization
Southwestern Archaeology and the Direct Historical Approach
Diversity, Diffusion, and Human Progress
"From Them to Us": Unilinear Evolution
Diffusionism: How Did Civilization Spread?
The Development of Modern Scientific Archaeology
Scientific Excavation
Archaeology and Ecology
Scientific Methods
"From Them to Us": Contemporary Archaeological Theory
Ecological/Evolutionary Approaches
Historical Materialist Approaches
Summary
Questions for Discussion
Chapter 2: Introducing Archaeology and Prehistory
The Tourist, the Collector, and the Archaeologist
Discovery An Anglo-Saxon Ship Burial at Sutton Hoo, England, 1939
Who Needs and Owns the Past?
What Do Archaeologists Do?
Anthropology, Archaeology, and History
Archaeologists on the Job
Many Sites, Many Archaeologists
Why Does Archaeology Matter?
Mysteries of the Past
A Sideline: Pseudoarchaeology
Archaeology and Human Diversity
Archaeology as a Political Tool
Archaeology and Economic Development
The Irresistible Lure of the Past
The Prehistory of Humankind According to Archaeologists
Early Prehistory
The Origins and Spread of Modern Humans
The Origins of Food Production
The Origins of States (Civilizations)
European Expansion
Summary
Questions for Discussion
Chapter 3: Culture and Context
Human Culture
Discovery The Lords of Sicán, Peru, A.D. 900—1100
Cultural Systems
Culture Change
The Goals of Archaeology
Constructing Culture History
Reconstructing Ancient Lifeways
Explaining Cultural and Social Change
Preserving the Archaeological Record
The Archaeological Record
Archaeological Sites
Artifacts, Features, and Ecofacts
Context
Summary
Questions for Discussion
Chapter 4: Explaining the Past
Interpretation of Culture History
Inevitable Variation
Invention
Diffusion
Migration
Noncultural Models
Genetics and DNA
Ecological/Environmental (Processual) Archaeology
Systems and Cultural Ecology
Multilinear Cultural Evolution
Historical Materialist Approaches
Cognitive-Processual Archaeology
Archaeological Theory Today and Tomorrow: "Processual Plus"
Discovery Chinese commander Zheng He visits East Africa in 1415, or does he?
Multidisciplinary Perspectives
Alternative Histories
DNA Studies
Ecology and Evolutionary Theory
Understanding the Role of the Human Mind
External and Internal Constraints
A General Theoretical Framework?
Summary
Questions for Discussion
Chapter 5: Space and Time
Space
The Law of Association
Assemblages and Subassemblages
Time
Linear and Cyclical Time
Relative Chronology
The Law of Superposition
Artifacts and Relative Chronology
Cross-Dating
Absolute Chronology
Historical Records and Objects of Known Age
Tree-Ring Dating (Dendrochronology)
Chrometric Chronology
Radiocarbon Dating
Obsidian Hydration
Luminescence Dating
Electronic Spin Resonance
Uranium Series Dating
Potassium-Argon Dating
Fission Track Dating
Discovery Eruption at Akrotiri, Greece, 1967
Summary
Questions for Discussion
Chapter 6: They Sought It Here, They Sought It There: Finding Archaeological Sites
The Process of Archaeological Research
Discovery The Sepulcher of the Maya Lord Pacal, Palenque, Mexico, 1949
Design and Formulation
Implementation
Data Acquisition
Processing and Analysis
Interpretation
Publication
Stages of Archaeological Fieldwork
Accidental Discovery
Archaeological Survey
Sampling and Archaeological Survey
Remote Sensing
Aerial Photography
Aircraft and Satellite Imagery
Recording Archaeological Sites
Geographic Information Systems (GIS)
Assessing Archaeological Sites
Surface Collection
Subsurface Detection Systems
Summary
Questions for Discussion
Chapter 7: Excavation
Planned Excavation: Research Design
Discovery The Princess of Khok Phanom Di, Thailand, 1984
Types of Excavation
Site Testing
The Process of Dissection
Vertical Excavation
Area, or Horizontal, Excavation
Digging, Tools, and People
Recording
Stratigraphic Observation
Excavation Problems
Open Campsites and Villages
Caves and Rockshelters
Mound Sites
Earthworks and Forts
Shell Middens
Ceremonial and Other Specialist Sites
Burials and Cemeteries
Reburial and Repatriation
Summary
Questions for Discussion
Chapter 8: Archaeological Classification and Ancient Technologies
Back from the Field
Classification and Taxonomy
Discovery Exotic Islanders: Homo floresiensis
Typology
Archaeological Types
The Concept of Types
Attributes and Types of Types
What Do Assemblages and Artifact Patternings Mean?
Units of Ordering
Components and Phases
Larger Archaeological Units
Ancient Technologies
Stone
Clay
Metals and Metallurgy
Bone, Wood, Basketry, and Textiles
Summary
Questions for Discussion
Chapter 9: The Present and the Past
Discovery Ancient Pacific Navigation
The Archaeological Record Again
Site-Formation Processes
Preservation
Favorable Preservation Conditions
Middle-Range Theory and the Archaeological Record
The Living Past
Ethnographic Analogy
Living Archaeology (Ethnoarchaeology)
The !Kung San
Maya Metates
Nunamiut Eskimos
Tucson, Arizona: Modern Material Culture and Garbage
Experimental Archaeology
Summary
Questions for Discussion
Chapter 10: Ancient Climate and Environment
Discovery Moche Human Sacrifice and El Niño, Huaca de la Luna, Peru, Sixth to Seventh Century A.D.
Short-Term and Long-Term Climatic Change
Long-Term Climatic Change: The Great Ice Age
Deep-Sea Cores and Ice Cores
The Pleistocene Framework
Pollen Analysis
Short-Term Climatic Change: The Holocene
Centuries-Long Changes: The Younger Dryas and the Black Sea
Short-Term Climatic Change: El Niño
The Moche Civilization
Tree Rings: Studying Southwestern Drought
Geoarchaeology
Summary
Questions for Discussion
Chapter 11: Come Tell Me How You Lived
Evidence for Subsistence
Ancient Diet
Discovery The Gobekli Tepe Carvings, Turkey, 1994
Animal Bones
Faunal Analysis (Zooarchaeology)
Comparing Bone Assemblages
Species Abundance and Cultural Change
Game Animals
Domesticated Animals
Ancient Butchery
Plant Remains
Birds, Fish, and Mollusks
Rock Art
Summary
Questions for Discussion
Chapter 12: Settlement and Landscape
Settlement Patterns
Households
Communities
Discovery Households at Marki, Cyprus, c. 2200 B.C.
Distribution of Communities
Geographic Information Systems and Roman Wroxeter, England
Population
The Archaeology of Landscapes
Sacred Landscapes: Mirrors of the Intangible
Maeshowe and the Stones of Stenness
Summary
Questions for Discussion
Chapter 13: The Archaeology of People
Studying the Deceased: Bioarchaeology
Sex and Age
Malnutrition, Stress, and Work-Related Injuries
Violence
Discovery The Ice Man of the Alps, c. 2400 B.C.
Strontium and Peoples' Lives
Individuals
Groups
Social Ranking
Ethnicity and Social Inequality
Gender
The Engendered Past
Wider Society: Prestate and State Societies
Interaction: Trade and Exchange
Types of Trade
Studying Ancient Trade: Sourcing
Long-Distance Trade and the Uluburun Ship
Interactions: Religious Beliefs
Studying Religion and Ideology
Summary
Questions for Discussion
Chapter 14: Managing the Past
Legislating the Past
Discovery African-American Burial Ground, New York City, 1991
Laws Some Cultural-Resource-Management Legislation in the United States, 1960 onward
What Is Protected?
Assessment, Mitigation, and Compliance
Phase 1: Identification and Preliminary Assessment
Phase 2: Assessing Significance
Phase 3: Management Plans and Mitigation
Management versus Research
Strategies of CRM Research
Geomorphology
Safety
Technology
Management Challenges
Issues of Quality
The Issue of Site Records
The Issue of Curation
The Issue of Publication and Dissemination
Native Americans and CRM
Public Archaeology
Archaeological Tourism
Summary
Questions for Discussion
Chapter 15: So You Want to Become an Archaeologist?
Archaeology as a Profession
Deciding to Become an Archaeologist
Gaining Fieldwork Experience
Career Opportunities
Academic Qualifications and Graduate School
Thoughts on Not Becoming a Professional Archaeologist
Our Responsibilities to the Past
A Simple Code of Archaeological Ethics for All
Summary

Sites and Cultures Mentioned in the Text
Glossary of Technical Terms
Guide to Further Reading
References
Photo Credits
Index