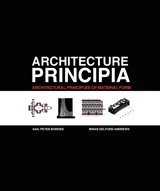 Description
For courses in design studios and introductory history/theory courses that examine the fundamental principles of architecture.
Architecture Principia: Architectural Principles of Material Form provides a comprehensive look at the foundational themes of architecture. Simultaneously fundamental and advanced, the text employs comparative precedents, case studies from across the history of architecture, consistent and clear graphic language, and a parallel visual and textual presentation of each architectural principle. Written by designers, for designers, the text is intended to serve as an analytical handbook of the concepts behind these diverse, formal principles as viewed through the history of architecture.
Table of Contents
Preface
Organization Systems
Precedent
Typology
Form
Figure / Ground
Context
Geometry / Proportion
Symmetry
Hierarchy
Material
Ornament
Pattern
Perception
Sequence
Meaning
Glossary
Index
Purchase Info ?
With CourseSmart eTextbooks and eResources, you save up to 60% off the price of new print textbooks, and can switch between studying online or offline to suit your needs.
Once you have purchased your eTextbooks and added them to your CourseSmart bookshelf, you can access them anytime, anywhere.
Buy Access
Architecture Principia, CourseSmart eTextbook
Format: Safari Book
$49.99 | ISBN-13: 978-0-13-158118-0