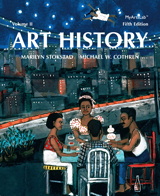 Description
The most student-friendly, contextual, and inclusive survey is now personalized, digital, and mobile for today's students.
Art History 5th edition continues to balance formal analysis with contextual art history in order to engage a diverse student audience. Authors Marilyn Stokstad and Michael Cothren- both scholars as well as teachers- share a common vision that survey courses should be filled with as much enjoyment as learning, and that they should foster an enthusiastic, as well as an educated, public for the visual arts.
This revision is the strongest and most comprehensive learning program for measuring student progress and improving student success in attaining the outcomes and goals of the art history survey course. Not only does the text address four overarching goals of the survey course, the new MyArtsLab further develops and reinforces these outcomes and skills with market-leading learning tools such as personalized study plans for each student and multimedia assets geared towards addressing different learning styles and abilities, such as chapter audio, student videos, Closer Looks, architectural panoramas and much more. The end result is a complete learning program designed to increase students' success with a personalized, digital and a highly mobile learning experience.
A better teaching and learning experience
The teaching and learning experience with this program helps to:
Personalize Learning— MyArtsLab is an online homework, tutorial, and assessment program. It helps students prepare for class and instructors gauge individual and class performance.
Go Digital – Pearson Custom Library 2.0 provides instructors and students with a whole new online customizable learning experience.
Go Mobile – Make learning easy and convenient with our on-the-go eTexts and key learning applications.
Improve Critical Thinking – Key Learning Outcomes encourage students to think critically about visual arts as part of the larger world.
Engage Students– Updated scholarship, MyArtsLab, and the readability of the text provide a wonderful engaging student experience.
Support Instructors – With a wealth of online resources, instructors have videos, images, and teaching support materials to create a dynamic, engaging course.
Table of Contents
BRIEF TABLE OF CONTENTS:
Chapter 18. Fourteenth-Century Art in Europe
Chapter 19. Fifteenth-Century Art in Northern Europe
Chapter 20. Renaissance Art in Fifteenth-Century Italy
Chapter 21. Sixteenth-Century Art in Italy
Chapter 22. Sixteenth-Century Art in Northern Europe and the Iberian Peninsula
Chapter 23. Seventeenth-Century Art in Europe
Chapter 24. Art of South and Southeast Asia after 1200
Chapter 25. Chinese and Korean Art after 1279
Chapter 26. Japanese Art after 1333
Chapter 27. Art of the Americas after 1300
Chapter 28. Art of Pacific Cultures
Chapter 29. Art of Africa in the Modern Era
Chapter 30. Eighteenth- and Early Nineteenth-Century Art in Europe and North America
Chapter 31. Mid to Late Nineteenth-Century Art in Europe and the United States
Chapter 32. Modern Art in Europe and the Americas, 1900–1950
Chapter 33. The International Scene since 1950
Purchase Info ?
With CourseSmart eTextbooks and eResources, you save up to 60% off the price of new print textbooks, and can switch between studying online or offline to suit your needs.
Once you have purchased your eTextbooks and added them to your CourseSmart bookshelf, you can access them anytime, anywhere.
Buy Access
Art History, Volume 2, CourseSmart eTextbook, 5th Edition
Format: Safari Book
$73.99 | ISBN-13: 978-0-205-95371-4