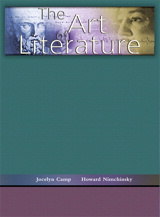 Additional Course Materials
This title is also sold in the various packages listed below. Before purchasing one of these packages, speak with your professor about which one will help you be successful in your course.
Package ISBN-13: 9780132191562
Includes this title packaged with:
Writing About Literature - Brief, 11th Edition
Edgar V. Roberts
$86.65 $82.32 | Add to Cart
Print
Add to Cart
$26.65 $25.32 | ISBN-13: 978-0-13-189103-6
Free Ground Shipping.