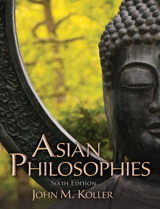 Description
With an inside view from an expert in the field, solid scholarship, and a clear and engaging writing style, Asian Philosophies invites students and professors to think along with the great thinkers of the Asian traditions. John M. Koller is a scholar and teacher who has devoted his life to understanding Asian thought and practice. He wrote this text to give readers access to the rich philosophical and religious ideas of both South and East Asia.
Table of Contents
PART I
PHILOSOPHIES OF SOUTH ASIA
CHAPTER 1
Historical Perspectives
CHAPTER 2
Vedas and Upanishads
CHAPTER 3
The Jain Vision
CHAPTER 4
Buddhism: The Basic Teachings
CHAPTER 5
Interdependent Arising and Development of Mahayana
CHAPTER 6
Madhyamaka and Yogacara
CHAPTER 7
Society and the Individual
CHAPTER 8
Self and the World: Sankhya-Yoga
CHAPTER 9
Knowledge and Reality: Nyaya-Vaisheshika
CHAPTER 10
Self and Reality: Mimamsa and Vedanta
CHAPTER 11
Theistic Developments
CHAPTER 12
Islam
CHAPTER 13
Tradition and Modernity
PART II
EAST ASIAN PHILOSOPHIES
CHAPTER 14
Historical Overview of East Asian Philosophies
CHAPTER 15
Yinyang Philosophy in the Book of Changes
CHAPTER 16
Confucianism: The Thought of Confucius
CHAPTER 17
Development of Confucianism: Mengzi, Xunzi, and Dong Zhongshu
CHAPTER 18
Daoism: The Daodejing
Chapter 19
Zhuangzi's Daoism
CHAPTER 20
Chinese Buddhism
CHAPTER 21
Neo-Confucianism: The Grand Harmony
CHAPTER 22
Korean Philosophy
CHAPTER 23
Japanese Philosophy
CHAPTER 24
Recent Thought
Glossary
Pronunciation Guide
Index
Purchase Info
Digital Choices ?
MyLab & Mastering with Pearson eText is a complete digital substitute for a print value pack at a lower price.
MyLab & Mastering ?
MyLab & Mastering products deliver customizable content and highly personalized study paths, responsive learning tools, and real-time evaluation and diagnostics. MyLab & Mastering products help move students toward the moment that matters most—the moment of true understanding and learning.
eTextbook ?
With CourseSmart eTextbooks and eResources, you save up to 60% off the price of new print textbooks, and can switch between studying online or offline to suit your needs.
Once you have purchased your eTextbooks and added them to your CourseSmart bookshelf, you can access them anytime, anywhere.