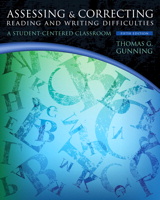 Description
Pre- and in-service teachers turn to this book for a comprehensive, well-grounded look at theory and research, balanced with a practical approach to reading assessment, diagnosis, and remediation that includes 46 sample lessons covering virtually every major skill or strategy. The lessons are described in an easy-to-follow, step-by-step manner, and the emphasis is on strategies that teachers can use independently for developing skills in word recognition, vocabulary, comprehension, reading in the content areas, writing, spelling, and studying. This new Fifth Edition of Assessing and Correcting Reading and Writing Difficulties includes coverage of the critical areas of Response to Intervention and the impact of the Common Core State Standards.
Table of Contents
Introduction to Literacy Difficulties

Factors Involved in Reading and Writing Difficulties

Overview of Assessment

Placing Students and Monitoring Progress

Assessment of Reading and Writing Processes

Assessment of Cognitive, School, and Home Factors

Emergent Literacy and Prevention Programs

Teaching Phonics, High-Frequency Words, and Fluency

Syllabic, Morphemic, and Contextual Analysis and Dictionary Strategies

Building Vocabulary

Building Comprehension

Reading to Learn and Remember in the Content Areas

Building Writing Strategies

Tier II and III Programs

Organization of Intervention and Corrective Programs

Appendix A: Informal Assessment Measures
This title is also sold in the various packages listed below. Before purchasing one of these packages, speak with your professor about which one will help you be successful in your course.
Package ISBN-13: 9780133779059
Includes this title packaged with:
Qualitative Reading Inventory, 5th Edition
Lauren Leslie, JoAnne Schudt Caldwell
Intervention Strategies to Follow Informal Reading Inventory Assessment: So What Do I Do Now?, 3rd Edition
JoAnne Schudt Caldwell, Lauren Leslie
$273.36 | Add to Cart