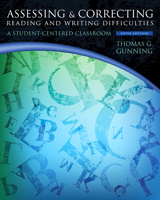 Description
A comprehensive, practical approach that details—and illustrates through a wealth of examples—how to assess students and how to use assessment results to screen students, monitor progress, and provide effective instruction.
Grounded in theory and research, yet practical in nature, this book provides 46 easy-to-follow, step-by-step sample lessons covering virtually every major skill or strategy for successfully assessing and instructing struggling readers of all ages. The emphasis is on teaching students strategies they can use independently for developing skills in word recognition, vocabulary, comprehension, reading in the content areas, writing, spelling, and studying.
Updated to include extensive coverage of Response to Intervention and the impact of the Common Core State Standards, the book covers areas of assessment including basic concepts of tests and measurements; standardized measures, including curriculum-based instruments; and informal but highly regarded assessment methods such as the informal reading inventory, miscue analysis, running records, observation, think-alouds, checklists, conferences, rubrics, performance assessment holistic scoring of writing and portfolio assessment, and student self-assessment. This edition continues to provide extensive coverage of screening, progress monitoring, interim assessments, diagnosis, and outcome measures. Numerous suggestions for practice and reinforcement are presented, including the use of technology.
Table of Contents
Introduction to Literacy Difficulties

Factors Involved in Reading and Writing Difficulties

Overview of Assessment

Placing Students and Monitoring Progress

Assessment of Reading and Writing Processes

Assessment of Cognitive, School, and Home Factors

Emergent Literacy and Prevention Programs

Teaching Phonics, High-Frequency Words, and Fluency

Syllabic, Morphemic, and Contextual Analysis and Dictionary Strategies

Building Vocabulary

Building Comprehension

Reading to Learn and Remember in the Content Areas

Building Writing Strategies

Tier II and III Programs

Organization of Intervention and Corrective Programs

Appendix A: Informal Assessment Measures