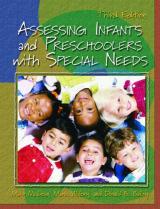 Description
For courses in Assessment in Early Childhood Special Education.
Written by experts, this text prepares students who will work with special-needs infants and preschoolers to use assessment for the purpose of planning effective, personalized intervention programs. It thoroughly examines the full range of assessment issues - from test development to cultural competence - with an emphasis on family-centered practices, the impact of a child's everyday environment, and the value of collaborative decision-making in order to understand the "whole" child who has a disability. The authors thoroughly ground readers in the fundamentals of all assessment, while concentrating most on assessment of the youngest children birth to five years old.
Table of Contents


1. Assessment and Its Importance in Early Intervention/Early Childhood Special Education.


2. Tests and Test Development.


3. Procedural Considerations in Assessing Infants and Preschoolers with Disabilities.


4. Family Diversity, Assessment, and Cultural Competence.


5. Identification and Referral.


6. Screening and Assessment of Sensory Functioning.


7. Assessing Family Resources, Priorities, and Concerns.


8. Assessing Childrens' Environments.


9. Functional Behavioral Assessment in Early Education Settings.


10. Assessing Cognitive Development.


11. Assessing Motor Skills in Infants and Young Children.


12. Assessing Communication Skills.


13. Assessing Social Competence.


14. Assessing Play Skills.


15. Assessing Adaptive Behavior.


16. Using Assessment Information to Plan Intervention Programs.


17. Monitoring Childrens' Progress and Intervention Implementation.


Author Index.


Subject Index.