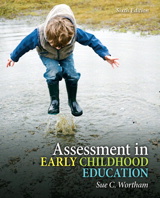 Description
For Assessment courses in Early Childhood Education.
One of the most accessible and practical textbooks available on assessing young children from infancy through age 8, it provides the full range of types of assessment and how, when, and why to use them.
An excellent introduction to assessing young children, Assessment in Early Childhood Education, Sixth Edition, continues with the inclusion of all types of assessments that can be used with infants and young children. Key changes and updates to this edition include: updated and streamlined figures, examples, and models of assessment that aid pre-service teachers to learn how to apply the principles of quality assessments; new activities at the end of the chapters provide opportunities for students to apply their own performance activities to demonstrate understanding of chapter contents; the effects of No Child Left Behind have been updated; newly revised information on children from diverse cultures and languages and children with disabilities has been added; and information on new and current trends toward accountability are discussed, as well as the impact of high-stakes testing.
Table of Contents
Part I - Introduction to Assessment in Early Childhood
Chapter 1 An Overview of Assessment in Early Childhood
Chapter 2 How Infants and Young Children Should be Assessed
Part II — Standardized Tests
Chapter 3 How Standardized Tests are Used, Designed, and Selected
Chapter 4 Using the Reporting Standardized Test Results
Part III — Classroom Assessments
Chapter 5 Observation
Chapter 6 Checklists, Rating Scales, and Rubrics
Chapter 7 Teacher-Designed Strategies
Chapter 8 Performance-Based Strategies
Part IV — Using Assessment Systems
Chapter 9 Portfolio Assessment
Chapter 10 Communicating with Families
Glossary
Index
Purchase Info ?
With CourseSmart eTextbooks and eResources, you save up to 60% off the price of new print textbooks, and can switch between studying online or offline to suit your needs.
Once you have purchased your eTextbooks and added them to your CourseSmart bookshelf, you can access them anytime, anywhere.
Buy Access
Assessment in Early Childhood Education, CourseSmart eTextbook, 6th Edition
Format: Safari Book
$30.99 | ISBN-13: 978-0-13-248133-5