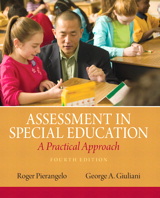 Description
For courses in Assessment in Special Education.
Unique in its perspective, this book covers assessments for every disability type while examining each stage of the special education assessment process.
Unlike other books, it is organized chronologically and moves sequentially through response to intervention, to prereferral strategies, to assessments, to report writing, to development of the IEP. Chapters discuss the most current and reliable assessment measures used in schools to determine all areas of special need from infancy, to school-age and into adulthood. This edition addresses current topics such as IDEA 2004, curriculum-based assessment, curriculum-based measurement, functional behavior assessments and behavioral intervention plans. Early chapters are devoted to foundational concepts, while later chapters tackle practical topics such as interpretation, diagnosis, report writing, recommendations, parent involvement and eligibility.
Table of Contents
Table of Contents
PART I: FOUNDATIONAL CONCEPTS IN ASSESSMENT IN SPECIAL EDUCATION
1. Introduction to Assessment
2. Methods of Assessment and Testing Considerations
3. Basic Statistical Concepts
4. Validity and Reliability
5. Scoring Terminology Used in Assessment
PART II: THE SPECIAL EDUCATION PROCESS
6. Response to Intervention
7. The Child Study Team and Prereferral Strategies
8. The Multidisciplinary Team and Parental Participation in the Assessment Process
9. Assessment of Academic Achievement
10. Assessment of Intelligence
11. Assessment of Behavior
12. Assessment of Perceptual Processing
13. Assessment of Speech and Language
14. Early Childhood Assessment
15. Other Areas of Assessment
16. Determining Whether a Disability Exists
17. Writing a Comprehensive Report in Special Education
18. Eligibility Procedures for Special Education Services
19. Development of the IEP