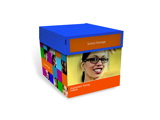 Description
ATI's School Package has been designed specifically for schools implementing professional development that combines student-involved classroom assessment for learning with day-to-day instruction for their teaching staff.

Using ATI's learning team model, the School Package provides participants with the materials and guidance they need for self-directed study. As teachers apply the principles of sound classroom assessment in their classroom--setting clear instructional targets linked to state standards--they see their student progress toward standards in ways that promote learning, not simply measure it.

The School Package for Collaborative Learning Teams Includes:
10 copies of Classroom Assessment for Student Learning: Doing It Right—Using It Well, written by Richard Stiggins, Judy Arter, Jan Chappuis, and Steve Chappuis. This user friendly textbook/workbook is grounded in the research shown to improve student motivation and learning through improved classroom assessment. It includes hands-on practice presented in a format for use in collaborative learning teams, with additional resources included on a CD-ROM and DVD.
The new Learning Team Facilitator Handbook by Jan Chappuis with a DVD featuring Rick Stiggins discussing the key ideas behind the concept and Jan providing chapter-by-chapter introductions.
Complimentary DVD Developing Balanced Assessment Systems: Seven Essential Actions for Schools and Districts, featuring Rick Stiggins along with Rick's white paper, Assessment Manifesto: A Call for the Development of Balanced Assessment Systems.
Seven interactive training DVDs aligned to the content of the book. Titles include:

Assessment for Student Motivation
Evaluating Assessment Quality: Hands-On Practice
Assessing Reasoning in the Classroom
Commonsense Paper and Pencil Assessments
Designing Performance Assessments for Learning, bundled with the book Creating and Recognizing Quality Rubrics
Grading & Reporting in Standards-Based Schools, bundled with the book A Repair Kit for Grading: 15 Fixes for Broken Grades
Student-Involved Conferences
Additional Resources from ATI

Visit http://ati.pearson.com to read more articles on assessment, download study guides, and more!