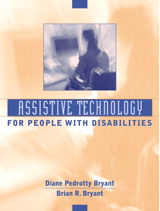 Table of Contents
Chapters begin with "Objectives" and "Making Connections" and conclude with "Summary" and "Discussion Questions."
Preface.
Chapter 1. Introduction to Assistive Technology (At) Devices and Services.
Assistive Technology Defined.
Historical Overview of Assistive Technology.
Multidisciplinary Nature of at Service Provision.
Chapter 2. Adaptations Framework for Considering Assistive Technology.
Introduction to the Adaptations Framework.
Setting-Specific Demands.
Person-Specific Characteristics.
Adaptations.
Evaluation of Effectiveness of Adaptations.
Chapter 3. Assistive Technology Assessments.
Overview of Assessment Issues.
Overview of General Assessments.
Assistive Technology Assessments.
Assessment Components.
Chapter 4. Assistive Technology Devices to Enhance Mobility for Individual with Physical Impairments.
Introduction to Mobility Adaptations.
Basic Design Considerations.
Seating and Positioning Issues.
Chapter 5. Assistive Technology Devices to Enhance Speech Communication.
Nature of Spoken Language.
Introduction to Augmentative and Alternative Communication Systems.
Selection Techniques for Aided Communication Systems.
Overview of Nonelectronic Systems and Electronic Devices.
Chapter 6. Assistive Technology Devices to Enhance Access to Information.
Introduction to Information Access.
Computer Access.
Telecommunication.
Listening and Print Access.
Chapter 7. Integrating ATAdaptations into Academic Instructions.
Introduction to Integrating at Adaptation into Academic Instruction.
Designing Instruction.
Reading.
Writing.
Mathematics.
Implementing Instruction.
Evaluating Instruction.
Chapter 8. Anchoring Instruction for Students with Disabilities.
Introduction to Anchoring Instruction.
Defining Anchoring Instruction.
Implementing Anchoring Instruction.
Developing Anchors.
Benefits of Anchoring Instruction.
Challenges of Anchoring Instruction.
Chapter 9. Assistive Technology Devices to Enhance Independent Living.
Introduction to Independent Living.
Devices for Daily Life.
Switches and Scanning.
Environmental Control Units.
Access to Management Devices.
Mobility.
Appendix A. Glossary of Terms.
Appendix B. Section 508.
Appendix C. Listing of Assistive Technology Vendors.