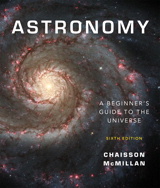 Description
For one-semester Introduction to Astronomy courses.
The authors incorporate three themes in this briefer version of their two textbooks; process of science (how we know what we know), the size and scale of the universe as well as the evolution of the universe. A Beginner's Guide emphasizes critical thinking and visualization.
CourseSmart textbooks do not include any media or print supplements that come packaged with the bound book.
Table of Contents
BRIEF CONTENTS
0. Charting the Heavens : The Foundations of Astronomy
I. FOUNDATIONS
1. The Copernican Revolution: The Birth of Modern Science
2. Light and Matter: The Inner Workings of the Cosmos
3. Telescopes: The Tools of Astronomy
II. OUR PLANETARY SYSTEM
4. The Solar System: Interplanetary Matter and the Birth of the Planets
5. Earth and Its Moon: Our Cosmic Backyard
6. The Terrestrial Planets: A Study in Contrasts
7. The Jovian Planets: Giants of the Solar System
8. Moons, Rings, and Plutoids: Small Worlds Among Giants
III. THE STARS
9. The Sun: Our Parent Star
10. Measuring the Stars: Giants, Dwarfs, and the Main Sequence
11. The Interstellar Medium: Star Formation in the Milky Way
12. Stellar Evolution: The Lives and Deaths of Stars
13. Neutron Stars and Black Holes: Strange States of Matter
IV. GALAXIES AND THE UNIVERSE
14. The Milky Way Galaxy: A Spiral in Space
15. Normal and Active Galaxies: Building Blocks of the Universe
16. Hubble's Law and Dark Matter: The Large-Scale Structure of the Cosmos
17. Cosmology: The Big Bang and the Fate of the Universe
18. Life in the Universe: Are We Alone?