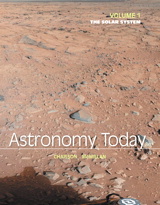 Description
This package consists of:
Astronomy Today, Volume 1: The Solar System, Eighth Edition—Focuses primarily on planetary coverage for a 1-term course. Includes Chapters 1–16, 28.
With Astronomy Today, Eighth Edition, trusted authors Eric Chaisson and Steve McMillan communicate their excitement about astronomy, delivering current and thorough science with insightful pedagogy. The text emphasizes critical thinking and visualization, and it focuses on the process of scientific discovery, teaching students "how we know what we know." The Eighth Edition has been thoroughly updated with the latest astronomical discoveries and theories and improved pedagogical features.
This title is also sold in the various packages listed below. Before purchasing one of these packages, speak with your professor about which one will help you be successful in your course.
Package ISBN-13: 9780321984272
Includes this title packaged with:
MasteringAstronomy with Pearson eText -- ValuePack Access Card -- for Astronomy Today, 8th Edition
Eric Chaisson, Steve McMillan
$117.33 | Add to Cart
Package ISBN-13: 9780134110035
Includes this title packaged with:
SkyGazer 5.0 Student Access Code Card (Integrated component)
x x Carina Software
MasteringAstronomy with Pearson eText -- ValuePack Access Card -- for Astronomy Today, 8th Edition
Eric Chaisson, Steve McMillan
$117.33 | Add to Cart