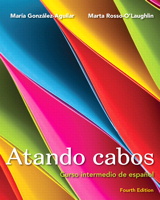 Description
Understanding that students enter the Intermediate Spanish course at different levels, Atando cabos brings students to a common proficiency level and "ties up the loose ends" from their first year of Spanish. Focusing on the significance of culture and interpersonal communication in learning a foreign language, this text is comprised of high-interest, relevant themes that motivate critical thinking and classroom discussions. Concentrating on the development of basic skills–listening, speaking, reading and writing, with an equal emphasis on fluency and accuracy–this text teaches students to express, interpret, and negotiate meaning in context while learning to analyze, compare, contrast, and understand Hispanic cultures.
Note: This is the standalone book, if you want the book/access card order the ISBN below:
0205989810 / 9780205989812 Atando cabos: Curso intermedio de español with MySpanishLab with eText (multi semester access) -- Access Card Package
Package consists of:
0205770169 / 9780205770168 Atando cabos: Curso intermedio de español
0205978681 / 9780205978687 MySpanishLab with Pearson eText -- Access Card -- for Atando cabos: Curso intermedio de español (multi semester access)
Table of Contents
Capítulo 1 • Hablemos de nosotros
Capítulo 2 • Hablemos de viajes
Capítulo 3 • Hablemos del interculturalidad
Capítulo 4 • Hablemos de donde vivimos
Capítulo 5 • Hablemos de los derechos humanos
Capítulo 6 • Hablemos de la salud
Capítulo 7 • Hablemos del trabajo
Capítulo 8 • Hablemos del arte
Capítulo 9 • Hablemos de la juventud
Capítulo 10 • Hablemos del comercio justo y el consumo responsable
Capítulo 11 • Hablemos del ocio y del tiempo libre
Capítulo 12 • Hablemos de las celebraciones
Enhance your learning experience with text-specific study materials.
These online resources are available at no cost.
Companion Website for Atando cabos: Curso intermedio de español, 4th Edition
This title is also sold in the various packages listed below. Before purchasing one of these packages, speak with your professor about which one will help you be successful in your course.
Purchase Info
Digital Choices
MyLab & Mastering ?
MyLab & Mastering products deliver customizable content and highly personalized study paths, responsive learning tools, and real-time evaluation and diagnostics. MyLab & Mastering products help move students toward the moment that matters most—the moment of true understanding and learning.
eTextbook ?
With CourseSmart eTextbooks and eResources, you save up to 60% off the price of new print textbooks, and can switch between studying online or offline to suit your needs.
Once you have purchased your eTextbooks and added them to your CourseSmart bookshelf, you can access them anytime, anywhere.
Print Choices
Loose Leaf Version ?
Books a la Carte are less-expensive, loose-leaf versions of the same textbook.