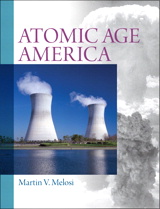 Description
Examines atomic energy as a lens to 20th and 21st-century America.
Atomic Age America looks at the broad influence of atomic energy—focusing particularly on nuclear weapons and nuclear power—on the lives of Americans within a world context. The text examines the social, political, diplomatic, environmental, and technical impacts of atomic energy on the 20th and 21st centuries, with a look back to the origins of atomic theory.
Learning Goals
Upon completing this book readers will be able to:
Develop a background in the origins of atomic theory and atomic science

View nuclear technologies within the historical context in which they were created and used

Understand how atomic energy helped frame the second half of the 20th century, and how it continues to influence in the 21st
Note: MySearchLab does not come automatically packaged with this text. To purchase MySearchLab, please visit: www.mysearchlab.com or you can purchase a ValuePack of the text + MySearchLab (at no additional cost): ValuePack ISBN-10: 0205819133 / ValuePack ISBN-13: 9780205819133.
Table of Contents
Introduction: A Most Controversial Technology
Chapter 1 A Community of Scientists: Atomic Theory over the Centuries
Chapter 2 Government Mobilizes the Atom: War, Big Science, and the Manhattan Project
Chapter 3 Hiroshima, Nagasaki, and the Aftermath: From Total War to Cold War
Chapter 4 The Cold War and Atomic Diplomacy: Deterrence, Espionage, and the Super
Chapter 5 Invincible to Vulnerable in the Age of Anxiety: Massive Retaliation, Fallout, and the Sputnik Crisis
Chapter 6 To the Brink: The Military-Industrial Complex, the Berlin and Cuban Crises, and the Lingering Arms Race
Chapter 7 Too Cheap to Meter, Too Tempting to Ignore: Peaceful Uses of the Atom
Chapter 8 Nuclear Power v. The Environment: The Bandwagon Market, Reactor Safety, and the Energy Crisis
Chapter 9 The Post-TMI World, Chernobyl, and the Future of Nuclear Power
Chapter 10 Pax Atomica—or Pox Atomica--at the End of the Cold War
Chapter 11 Proliferation, Terrorism, and Climate Change: The Atom in the 21st Century
Conclusion: From Hiroshima to Fukushima
Enhance your learning experience with text-specific study materials.
Purchase Info
Digital Choices ?
MyLab & Mastering with Pearson eText is a complete digital substitute for a print value pack at a lower price.
MyLab & Mastering ?
MyLab & Mastering products deliver customizable content and highly personalized study paths, responsive learning tools, and real-time evaluation and diagnostics. MyLab & Mastering products help move students toward the moment that matters most—the moment of true understanding and learning.
eTextbook ?
With CourseSmart eTextbooks and eResources, you save up to 60% off the price of new print textbooks, and can switch between studying online or offline to suit your needs.
Once you have purchased your eTextbooks and added them to your CourseSmart bookshelf, you can access them anytime, anywhere.