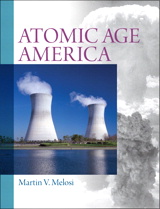 Description
Atomic Age America looks at the broad influence of atomic energy¿focusing particularly on nuclear weapons and nuclear power¿on the lives of Americans within a world context. The text examines the social, political, diplomatic, environmental, and technical impacts of atomic energy on the 20th and 21st centuries, with a look back to the origins of atomic theory.
Table of Contents
Introduction: A Most Controversial Technology; Chapter 1 A Community of Scientists: Atomic Theory over the Centuries; Chapter 2 Government Mobilizes the Atom: War, Big Science, and the Manhattan Project; Chapter 3 Hiroshima, Nagasaki, and the Aftermath: From Total War to Cold War; Chapter 4 The Cold War and Atomic Diplomacy: Deterrence, Espionage, and the Super; Chapter 5 Invincible to Vulnerable in the Age of Anxiety: Massive Retaliation, Fallout, and the Sputnik Crisis; Chapter 6 To the Brink: The Military-Industrial Complex, the Berlin and Cuban Crises, and the Lingering Arms Race; Chapter 7 Too Cheap to Meter, Too Tempting to Ignore: Peaceful Uses of the Atom; Chapter 8 Nuclear Power v. The Environment: The Bandwagon Market, Reactor Safety, and the Energy Crisis; Chapter 9 The Post-TMI World, Chernobyl, and the Future of Nuclear Power; Chapter 10 Pax Atomica or Pox Atomica--at the End of the Cold War; Chapter 11 Proliferation, Terrorism, and Climate Change
Purchase Info
ISBN-10: 0-205-74254-8
ISBN-13: 978-0-205-74254-7
Format: Book
This publication is not currently for sale.