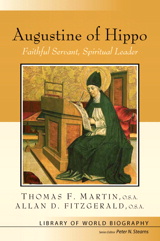 Description
For an undergraduate course in Western Civilization Volume 1, Ancient History, Roman History, Medieval History, History of Christianity.
Augustine of Hippo: Faithful Servant, Spiritual Leader, part of the Libary of World Biography Series, is a concise text. This work is meant for someone with little familiarity with Augustine of Hippo and his world. It is meant to introduce the reader to Augustine of Hippo and his thinking and to give the reader some "direct" contact with him by keeping the focus on his own words. Some chapters conclude with an excerpt from Augustine's writings and others are heavily laden with Augustine's own words.
Augustine dedicates an enormous amount of energy seeking to understand himself and exploring the "human." That intense interest on interiority has had a profound impact upon the West, leading commentators to attribute to Augustine the creation of the "Western self." His unique way of looking at and dealing with what it means to be human seems to place "the self" at center stage and to prize highly introspection and reflection as ways to come to appreciate that "self."
Each interpretive biography in the Library of World Biography Series focuses on a person whose actions and ideas either significantly influenced world events or whose life reflects important themes and developments in global history.
Table of Contents
Preface
Chapter One: Augustine's World
Chapter Two: Augustine's Childhood — A Son of Great Promise (conf. I.16.26)
Chapter Three: Augustine's Youth — Sizzling in Carthage (conf. III.1.1)
Chapter Four: Augustine the Man — In Pursuit of a Future
Chapter Five: Augustine's Conversion — The doctors call it a crisis! (cf. conf. VI.1.1)
Chapter Six: Augustine the Convert — Comings and Goings
Chapter Seven: Augustine the Priest — A Future Found, a Past Remembered
Chapter Eight: Augustine and the Donatist challenge — Compelling Love
Chapter Nine: Augustine, Bishop of Hippo Regius — Building Community
Chapter Ten: Augustine and God's Freedom — Against All Odds
Chapter Eleven: Augustine the Spiritual Leader — A Dying City
Epilogue
A Note on the Sources
Purchase Info ?
With CourseSmart eTextbooks and eResources, you save up to 60% off the price of new print textbooks, and can switch between studying online or offline to suit your needs.
Once you have purchased your eTextbooks and added them to your CourseSmart bookshelf, you can access them anytime, anywhere.
Buy Access
Augustine of Hippo, CourseSmart eTextbook
Format: Safari Book
$13.99 | ISBN-13: 978-0-205-03459-8