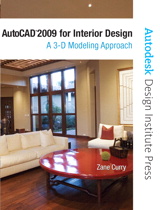 Description
For interior design studio courses that incorporate 3D modeling. Also appropriate for advanced AutoCAD courses.
AutoCAD 2009 for Interior Design: A Pragmatic Approach to 3D Modeling provides discipline-specific (interior design) 3D modeling and methods of digital illustration using a tutorial-based approach that covers the latest AutoCAD features and commands. This text provides students with the necessary experience and practice to produce and illustrate complex 3D interior components and furnished spaces in an amount of time that will allow additional studio projects to be completed in the course of one semester.
This text begins with basic concepts of 3D solid modeling. As the objects included in the chapter exercises increase in difficulty, so does the level of complexity of concepts and processes. This approach helps students understand and construct complex composite solid models. A portion of the book includes a four-part chapter on working with the soft goods such as draperies and tablecloths produced with surface modeling techniques. The text also includes a chapter on teaching students how to render an interior environment and a chapter exercise that teaches students to produce walk-through animations.
Table of Contents
1. Introduction to AutoCAD 2009
2. Drawing Set Up
3. Quick Start: Learning the Basics
4. Lamp
5. Glass Top Coffee Table
6. Desk
7. Desk Chair
8. Bookcase with Adjustable Shelves
9. Sofa
10. Cabriole Leg
11. Wing Chair
12. Building an Office Space
13. Furnishing the Office Space
14. Working with Soft Goods
15. Introduction to Rendering
Purchase Info ?
With CourseSmart eTextbooks and eResources, you save up to 60% off the price of new print textbooks, and can switch between studying online or offline to suit your needs.
Once you have purchased your eTextbooks and added them to your CourseSmart bookshelf, you can access them anytime, anywhere.
Buy Access
AutoCAD 2009 for Interior Design: A 3D Modeling Approach, CourseSmart eTextbook
Format: Safari Book
$49.99 | ISBN-13: 978-0-13-504096-6