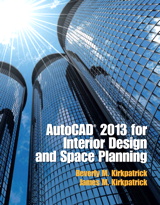 Description
For courses in Computer-Aided Design, Computer Graphics, Architectural Graphics, CAD for Interior Design, CAD for Space Planning, Computer-Aided Design and Graphics and Introduction to Computer Graphics.
AutoCAD 2013 for Interior Design and Space Planning helps students understand the commands and features of AutoCAD 2013 and demonstrates how to use the program to complete interior design and space planning projects. Covering both two- and three-dimensional drawings, the text provides abundant exercises that walk students step-by-step through the use of AutoCAD prompts and commands. Using numerous illustrations, the text captures the essence of this powerful program and the importance it plays in the interior design, architecture and space planning professions.
Table of Contents
Part I: Preparing to Draw with AutoCAD
1. Introducing the AutoCAD User Interface
Part II: Two-Dimensional AutoCAD
2. Quick-Start Tutorials: Basic Settings and Commands
3. Drawing with AutoCAD: Conference and Lecture Rooms
4. Adding Text and Tables to the Drawing
5. Advanced Plotting: Using Plot Styles, Paper Space, Multiple Viewports, and PDF Files.
6. Drawing the Floor Plan: Walls, Doors, and Windows
7. Dimensioning and Area Calculations
8. Drawing Elevations, Sections, and Details
9. Drawing the Furniture Installation Plan, Adding Specifications, and Extracting Data
10. Design Center, Autodesk Seek, Dynamic Blocks, and External References
11. Drawing the Reflected Ceiling Plan and Voice/Data/Power Plan
12. Creating Presentations with Layouts and Making a Style Sheet
13. Isometric Drawing and Gradient Hatch Rendering
Part III: Three-Dimensional AutoCAD
14. Solid Modeling
15. Advanced Modeling
Appendix A: Keyboard Shortcuts
Appendix B: Shortcut and Temporary Override Keys
Appendix C: Floor Plans and Interior Elevations of a 15-Unit Condominium Building
Purchase Info ?
With CourseSmart eTextbooks and eResources, you save up to 60% off the price of new print textbooks, and can switch between studying online or offline to suit your needs.
Once you have purchased your eTextbooks and added them to your CourseSmart bookshelf, you can access them anytime, anywhere.
Buy Access
AutoCAD 2013 for Interior Design & Space Planning, CourseSmart eTextbook
Format: Safari Book
$41.99 | ISBN-13: 978-0-13-298778-3