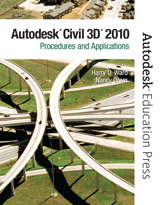 Description
For courses in Engineering Design and Computations, Introduction to Civil Engineering, and AutoCAD Civil 3D.
Unique in approach, AutoCAD Civil 3D offers an innovative blend of core civil engineering concepts and thorough AutoCAD Civil 3D instruction. It moves beyond a how-to manual, to explain why the software produces specific results and how it can be used to solve specific civil engineering problems. Flexible in design, the book begins with an overview of the software and its interface, introduces a comprehensive design project and then covers advanced usage of each of the software's capabilities. Ideal for both lecture and lab, the text uses screen shots, dialogue boxes, CAD images, and digital AutoCAD files to introduce the procedures and applications of AutoCAD Civil 3D.
Table of Contents
Introduction: CADD–The Primary Tool of Our Trade
Chapter 1 The Components and Interface of Civil 3D
Chapter 2 A Civil 3D JumpStart Project
Chapter 3 The Simple, but Time-Honored Point
Chapter 4 A Tip of the Hat to Surveyors-More Points!
Chapter 5 Surveying
Chapter 6 Civil 3D—The Modern Curvilinead
Chapter 7 Advanced 3D Surface Modeling
Chapter 8 Advanced Profiles and Sections
Chapter 9 Advanced Corridor Development
Chapter 10 Advanced Site Grading and Virtual Site Design™
Chapter 11 Piping for Storm Sewers and Drainage
Appendix A Data Sharing in Civil 3D
Appendix B Labeling in Civil 3D 2010
Appendix C Software and Hardware Versions
Appendix D Identify the Civil Engineering Industry
Appendix E Civil 3D's Visualization Capabilities
Purchase Info ?
With CourseSmart eTextbooks and eResources, you save up to 60% off the price of new print textbooks, and can switch between studying online or offline to suit your needs.
Once you have purchased your eTextbooks and added them to your CourseSmart bookshelf, you can access them anytime, anywhere.
Buy Access
AutoCAD Civil 3D 2010: Procedures and Applications, CourseSmart eTextbook
Format: Safari Book
$49.99 | ISBN-13: 978-0-13-507148-9