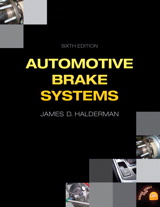 Refund Policy: Information about our product refund policy is available on the Customer Care page.
This is a subscription-based eBook that will be available to you on VitalSource.com for the duration of your course. This eBook may not include any media, website access codes, or print supplements that may come packaged with the bound book.
Description
Automotive Brake Systems, 6/e, provides complete coverage of the parts, operation, design, and troubleshooting of brake systems. Real examples and full color images throughout the text offer readers a practical approach to the diagnosis and repair of the NATEF tasks for the Automotive Brake Systems (A5) content area. Thoroughly revised and updated, the sixth edition has been peer reviewed by automotive instructors and experts in the field to ensure technical accuracy.
This book is part of the Pearson Automotive Professional Technician Series, which provides full-color, media-integrated solutions for today's students and instructors covering all eight areas of ASE certification, plus additional titles covering common courses. Peer reviewed for technical accuracy, the series and the books in it represent the future of automotive textbooks.
Table of Contents
1. Service Information, Tools, and Safety
2. Environmental and Hazardous Materials
3. Braking System Components and Performance Standards
4. Braking System Principles
5. Brake Hydraulic Systems
6. Hydraulic Valves and Switches
7. Brake Fluid and Lines
8. Brake Bleeding Methods and Procedures
9. Wheel Bearings and Service
10. Drum Brakes
11. Drum Brake Diagnosis and Service
12. Disc Brakes
13. Disc Brake Diagnosis and Service
14. Parking Brake Operation, Diagnosis, and Service
15. Machining Brake Drums and Rotors
16. Power Brake Unit Operation, Diagnosis, and Service
17. Regenerative Braking Systems
18. ABS Components and Operation
19. Antilock Brake Systems
20. ABS Diagnosis and Service
21. Electronic Stability Control Systems