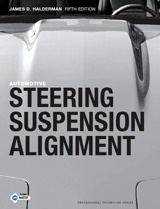 Description
For courses in Automotive Steering, Suspension, and Alignment.
Automotive Steering, Suspension and Alignment, 5e is organized around the ASE automobile test content area for Suspension and Steering (A4). Featuring complete coverage of parts, operation, design, and troubleshooting techniques, it correlates material to task lists specified by ASE and NATEF and emphasizes a diagnostic approach throughout. Chapter features include Tech Tips, Diagnostic Stories, High-Performance Tips, Frequently Asked Questions and more.
Table of Contents
Table of Contents:
Chapter 1 Service Information, Tools, and Safety
Chapter 2 Environmental and Hazardous Materials
Chapter 3 Tires and Wheels
Chapter 4 Tire Pressure Monitoring Systems
Chapter 5 Tire and Wheel Service
Chapter 6 Suspension System Components and Operation
Chapter 7 Front Suspension and Service
Chapter 8 Rear Suspension and Service
Chapter 9 Electronic Suspension Systems
Chapter 10 Electronic Stability Control
Chapter 11 Steering Columns and Gears
Chapter 12 Steering Linkage and Service
Chapter 13 Power-Assisted Steering Operation and Service
Chapter 14 Wheel Bearings and Service
Chapter 15 Drive Axle Shafts and CV Joints
Chapter 16 Drive Axle Shafts and CV Joint Service
Chapter 17 Wheel Alignment Principles
Chapter 18 Alignment Diagnosis and Service
Chapter 19 Vibration and Noise Diagnosis and Correction
These online resources are available at no cost.
Companion Website for Automotive Steering, Suspension and Alignment, 5th Edition