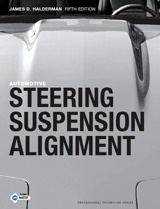 Description
For courses in Automotive Steering, Suspension, and Alignment.
Automotive Steering, Suspension and Alignment, 5e is organized around the ASE automobile test content area for Suspension and Steering (A4). Featuring complete coverage of parts, operation, design, and troubleshooting techniques, it correlates material to task lists specified by ASE and NATEF and emphasizes a diagnostic approach throughout. Chapter features include Tech Tips, Diagnostic Stories, High-Performance Tips, Frequently Asked Questions and more.
Table of Contents
Table of Contents:
Chapter 1 Service Information, Tools, and Safety
Chapter 2 Environmental and Hazardous Materials
Chapter 3 Tires and Wheels
Chapter 4 Tire Pressure Monitoring Systems
Chapter 5 Tire and Wheel Service
Chapter 6 Suspension System Components and Operation
Chapter 7 Front Suspension and Service
Chapter 8 Rear Suspension and Service
Chapter 9 Electronic Suspension Systems
Chapter 10 Electronic Stability Control
Chapter 11 Steering Columns and Gears
Chapter 12 Steering Linkage and Service
Chapter 13 Power-Assisted Steering Operation and Service
Chapter 14 Wheel Bearings and Service
Chapter 15 Drive Axle Shafts and CV Joints
Chapter 16 Drive Axle Shafts and CV Joint Service
Chapter 17 Wheel Alignment Principles
Chapter 18 Alignment Diagnosis and Service
Chapter 19 Vibration and Noise Diagnosis and Correction
These online resources are available at no cost.
Companion Website for Automotive Steering, Suspension and Alignment, 5th Edition
This title is also sold in the various packages listed below. Before purchasing one of these packages, speak with your professor about which one will help you be successful in your course.
Package ISBN-13: 9780132910842
Includes this title packaged with:
MyAutomotiveLab without Pearson eText -- Access Card
James D Prentice Hall
$159.73 | Add to Cart
Purchase Info
ISBN-10: 0-13-610001-5
ISBN-13: 978-0-13-610001-0
Format: Book
Digital Choices ?
MyLab & Mastering with Pearson eText is a complete digital substitute for a print value pack at a lower price.
MyLab & Mastering ?
MyLab & Mastering products deliver customizable content and highly personalized study paths, responsive learning tools, and real-time evaluation and diagnostics. MyLab & Mastering products help move students toward the moment that matters most—the moment of true understanding and learning.
+ Other Options
eTextbook ?
With CourseSmart eTextbooks and eResources, you save up to 60% off the price of new print textbooks, and can switch between studying online or offline to suit your needs.
Once you have purchased your eTextbooks and added them to your CourseSmart bookshelf, you can access them anytime, anywhere.