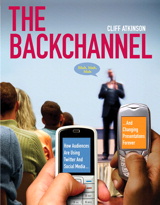 Description
Armed with laptops and smartphones, audiences today are no longer sitting quietly taking notes during live presentations. Instead, they're carving out a new space in the room called the backchannel, where people are online searching for resources, checking your facts, and connecting with others inside the room and out.

When audiences are happy, the backchannel vastly extends the reach of ideas and creates a new sense of community and connectedness. But when they are unhappy, the intersection of frustrated audiences with unaware presenters can often create dramatic and public breakdowns of communication—and even mob mentality.

In this book, communications consultant Cliff Atkinson shows that if these new kinds of audience participation are embraced and the conversations properly handled, the outcome can be a new, more effective form of communicating. Whether you're a host, presenter, or an audience member, Cliff will help you understand how this convergence of social forces is upending the presentation norm and how you can effectively manage the change.
Table of Contents
Part 1: The Death of PowerPoint and the Rebirth of Conversation
1. A PowerPoint Chip on Our Shoulder
2. Opening the Backchannel Floodgates
3. Renegotiating a Social Contract: The new Presentation Conversation
4. Integrating the Online with the Offline in a new Conversation Infrastructure
Part 2: Audience 2.0; How to listen, attend, communicate and participate
5. The Audience 2.0 Bill of Rights and Responsibilities
6. Voting with Your Feet
7. When the Audience Completely Runs the Show
8. Listening, reporting, Tweeting, blogging, commenting and the neglected art of question-asking
Part 3: Presenter 2.0; How to listen, present, communicate and facilitate
9. The Presenter 2.0 Bill of Rights and Responsibilities
10. The Art and Science of Crowdsourcing your Presentation
11. PowerPoint is Dead, Long Live PowerPoint
12. The Human Bar Chart, and Other Presentation Innovations
13. Choosing the right medium for your message: keynotes, panels, conversations and un-conferences


Purchase Info
ISBN-10: 0-321-65962-7
ISBN-13: 978-0-321-65962-0
Format: Safari PTG
This publication is not currently for sale.