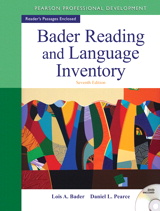 Description
The Bader Reading and Language Inventory presents a much-needed, highly authoritative model for ensuring K—12 readers' growth, assessing the effectiveness of specific reading approaches, and diagnosing a wide range of literacy needs. In it, teachers, teachers of adult students, reading specialists, and clinicians get a flexible approach to carrying out every aspect of effective reading and learning assessment–from a quick screening through a comprehensive reading assessment. Included are personal interviews and student reflection, observations, informal and formal tests, and diagnostic teaching, plus valuable research-based tools and guides that complement the assessment model and provide a balance of assessment practice that doesn't over-test students.
Table of Contents
Part ONE USING THE BADER READING AND LANGUAGE
INVENTORY 1
BADER READING AND LANGUAGE INVENTORY 3
Introduction
Assessment Model
Content of the Inventory
Administering the Inventory
Preparation for Using the Inventory 5
Testing Sequences: Flowcharts
Getting Optimum Results from Testing
Summarizing the Assessment Data
Part TWO TEST BATTERY 9
STUDENT PRIORITIES AND INTERESTS
ENGLISH LANGUAGE LEARNING
GRADED WORD RECOGNITION LISTS
Purpose
Administration
USING EXPERIMENTAL WORD LISTS 25
Adult Thematic Lists
USING GRADED READER'S PASSAGES
Graded Reader's Passages
Reading and Listening Levels
Determining a Starting Point
Oral Reading
Qualitative Analysis
Qualitative Analysis and Instruction 34
Silent Reading and Listening Comprehension
Interpreting and Summarizing the Results of the Graded Passages
Example of Testing for Instructional Level
Differences in Word List and Passages Performance
Determining Instructional Levels
Graded Reader Passages Reader Record Sheets
Oral Reading: Prepared
Oral Reading: Unprepared
Oral Reading Miscues
Silent Reading/Comprehension
PHONEMIC AWARENESS 78
Rhyme Recognition 78
Initial Phoneme Recognition 78
Ending Phoneme Recognition 78
Phonemic Manipulation 79
Blending 79
Segmenting 79
Letter Knowledge 81
Hearing Letter Names in Words 84
PHONICS AND STRUCTURAL ANALYSIS TESTS 86
Phonics 86
Structural Analysis 96
SPELLING TESTS 103
Administration 103
Interpretation 103
Summarizing Student Spelling Performance 104
Cognitive Development as a Basis for Selecting a Remedial Reading Approach 104
References 106
Diagnostic Spelling Tests 107
VISUAL AND AUDITORY DISCRIMINATION 111
Visual Discrimination Tests 111
Auditory Discrimination Tests 114
PRELITERACY AND EMERGINNG LITERACY ASSESSMENT 116
Literacy Awareness: Assessment of Beginning Concepts about Print 116
CLOZE TEST 121
ORAL LANGUAGE ASSESSMENT
Evaluation of Expression
Evaluation of Oral Language Reception
WRITING EVALUATION 134
Handwriting: Writing Letters 134
Handwriting: Writing Words in Sentences 134
Near- and Far-Point Copying 134
Writing from Dictation 134
Expressing Ideas in Writing 134
ARITHETIC TEST 137
Purpose 137
Administration 137
Scoring and Interpretation
CURRICULUM BASED ASSESSMENT
Description 140
Purposes 140
Construction 140
Administration 143
Scoring 143
Analysis 144
PART THREE RECORDING, SUMMARIZING, INTERPRETING
145
INSTRUCTOR'S RECORDS: K-12 153
CASE STUDY: JACKIE 156
Getting Started 156
Home and Family Resources 156
Ruling Out Problems and Developing a Diagnostic Plan 156
Analyzing Reading Abilities 157
Finding Specific Needs 157
Summarizing the Findings; Making Recommendations 158
Case Analysis 158
Referrals: Case Excerpts 159
Part FOUR DEVELOPMENT OF THE INVENTORY: VALIDITY AND REALIBILITY
DEVELOPING AND VALIDATING THE INVENTORY
The Graded Word Lists
Validity of the Graded Word Lists
The Graded Reader's passages
Recall and Question Construction
Assessing Text Structure
Reliability
Validity
Fluency and Rate
Instructional Level
Other Inventory Subtests and Checklists
Emergent Literacy
Phonemic Awareness and Manipulation
Curriculum Based Assessment
English Language Assessment
References and Suggested Readings
Part Five DIRECTIONS FOR THE DVD
Getting Started
Using the DVD
Scored Examiners Sheets from the DVD
Examiner Forms for the 7th edition
Part Six READER'S PASSAGES
Purchase Info ?
With CourseSmart eTextbooks and eResources, you save up to 60% off the price of new print textbooks, and can switch between studying online or offline to suit your needs.
Once you have purchased your eTextbooks and added them to your CourseSmart bookshelf, you can access them anytime, anywhere.
Buy Access
Bader Reading & Language Inventory, CourseSmart eTextbook, 7th Edition
Format: Safari Book
$44.99 | ISBN-13: 978-0-13-296349-7