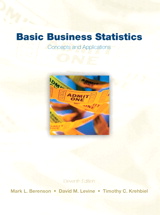 Table of Contents
Preface
1 Introduction and Data Collection
2 Presenting Data in Tables and Charts
3 Numerical Descriptive Measures
4 Basic Probability
5 Some Important Discrete Probability Distributions
6 The Normal Distribution and Other Continuous Distributions
7 Sampling Distributions and Sampling
8 Confidence Interval Estimation
9 Fundamentals of Hypothesis Testing: One-Sample Tests
10 Two-Sample Tests
11 Analysis of Variance
12 Chi-Square Tests and Nonparametric Tests
13 Simple Linear Regression
14 Introduction to Multiple Regression
15 Multiple Regression Model Building
16 Time-Series Forecasting and Index Numbers
17 Decision Making
18 Statistical Applications in Quality Management
Appendices A—F
Self-Test Solutions and Answers to Selected Even-Numbered Problems
Index
Student CD-ROM Topics
5.6 Using the Poisson Distribution to Approximate the Binomial Distribution CD5-1
7.6 Sampling from Finite Populations CD7-1
8.7 Estimation and Sample Size Determination for Finite Populations CD8-1
12.10 Chi-Square Goodness of Fit Tests
15.6 Influence Analysis
16.9 The Holt-Winters Method for Trend-Fitting and Forecasting
These online resources are available at no cost.
Companion Website for Basic Business Statistics, 11th Edition
Purchase Info
ISBN-10: 0-13-603260-5
ISBN-13: 978-0-13-603260-1
Format: Book
Digital Choices
MyLab & Mastering ?
MyLab & Mastering products deliver customizable content and highly personalized study paths, responsive learning tools, and real-time evaluation and diagnostics. MyLab & Mastering products help move students toward the moment that matters most—the moment of true understanding and learning.