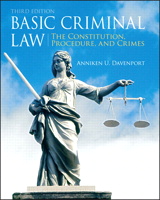 Description
For courses in criminal law and criminal procedure (as well as supplementary readings in constitutional law) in the paralegal and more general criminal justice programs.
Basic Criminal Law, Third Edition offers a comprehensive, well-organized approach to understanding key legal concepts and to developing the real-world skills students will as paralegals or in other criminal justice roles. Thoroughly updated for the latest trends, it guides students through the history of criminal law, the crimes themselves, and specific legal procedures. To promote interest, it presents crimes first and then procedures, and highlights current events and case law throughout. This edition's new features include: completely revamped end-of-chapter material, including a comprehensive Building Your Professional Skills section; a new chapter on sex crimes; more coverage of evidence, technology, and appeals; more charts and diagrams; new state-specific examples, and updated case studies throughout.
Table of Contents
Chapter 1 What is Criminal Law?
Chapter 2 What is a Crime?
Chapter 3 Crimes Against the Person: Murder
Chapter 4 Crimes Against the Person: Sex Crimes
Chapter 5 Crimes Against the Person: Other Violent Crimes
Chapter 6 Crimes Against Property
Chapter 7 Social Crimes
Chapter 8 Treason, Terrorism, & Wartime Criminal Justice
Chapter 9 Crimes Against the State
Chapter 10 Common Law Defenses
Chapter 11 Criminal Procedure: Constitutional Rights Before Arrest
Chapter 12 Criminal Procedure: Constitutional Rights After Arrest
Chapter 13 Criminal Procedure: The Constitutional Right to Trial by Jury
Chapter 14 Criminal Procedure: Constitutional Rights Post-Conviction