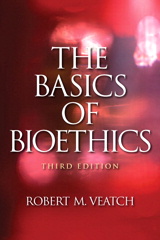 Description
For health professional schools (Medicine, Nursing, and Allied Health) and short undergraduate courses or course segments in Bioethics, Medical Ethics, and Applied Ethics in departments of philosophy, religion, biology, and the social sciences.
Brief text provides a balanced, systematic framework to help students analyze wide range of controversial topics in medicine. Considers ethical systems from various religious and secular traditions. Topics include history of codes of ethics, abortion, animal rights and welfare, confidentiality, truth-telling, informed consent, care of the terminally ill, genetics, birth technologies, and problems of social ethics, including resource allocation, organ transplant, and human subjects research.
Table of Contents
BRIEF TABLE OF CONTENTS:
Chapter 1: A Map of the Terrain of Ethics
Chapter 2: The Hippocratic Oath and Its Challengers: A Brief History
Chapter 3: Defining Death, Abortion, and Animal Welfare: The Basis of Moral Standing
Chapter 4: Problems in Benefiting and Avoiding Harm to the Patient
Chapter 5: The Ethics of Respect for Persons: Lying, Cheating, and Breaking Promises and Why Physicians Have Considered Them Ethical
Chapter 6: The Principle of Avoiding of Killing
Chapter 7: Death and Dying: The Incompetent Patient
Chapter 8: Social Ethics of Medicine: Allocation of Resources, Transplantation, and Human Subjects Research
Chapter 9: Human Control of Life: Genetics, Birth Technologies and Modifying Human Nature
Chapter 10: Resolving Conflicts Among Principles
Chapter 11: The Virtues in Bioethics

Appendices:
Hippocratic Oath
Principles of Medical Ethics (2001))of the American Medical Association
Universal Declaration on Bioethics and Human Rights (2005)
Purchase Info ?
With CourseSmart eTextbooks and eResources, you save up to 60% off the price of new print textbooks, and can switch between studying online or offline to suit your needs.
Once you have purchased your eTextbooks and added them to your CourseSmart bookshelf, you can access them anytime, anywhere.
Buy Access
Basics of Bioethics, The, CourseSmart eTextbook, 3rd Edition
Format: Safari Book
$31.99 | ISBN-13: 978-0-205-76563-8