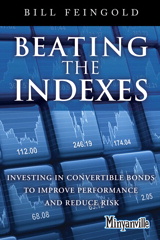 Description
You can beat the market by avoiding risk-averse, career-protecting investment managers and index-based strategies that are perfectly satisfied with mediocrity. Fact is, as indexing and quasi-indexing have become more prevalent, the dangers of these strategies have become more pronounced: a bias toward overvalued, overgrown, large-cap stocks likely to hit long periods of underperformance. But there's good news: If you're willing to invest a bit more of your own time, you have a much better chance of beating the pros than they want you to think. In Beating the Indexes, leading trader and Minyanville columnist Bill Feingold shows you how to systematically exploit the biases and mediocrity of index investors, and continuously make winning investments. Writing for individual investors as well as professional advisors and money managers, Feingold introduces a more profitable set of investing strategies based on convertible bonds and related alternative investments. In this surprisingly readable (even fun to read) book, each chapter exposes one index investing myth – and presents a powerful strategy for beating investors who still buy into it. If you're tired of minimal returns that disappear with the slightest market volatility, this is the book you've been searching for.
Table of Contents
Foreword xv
Preface xix
Introduction 1

Part I: Our Flawed Institutions
Chapter 1 Indexing and Its Discontents 7
Chapter 2 The Individual's Edge 25
Chapter 3 Delusions and Illusions: Chasing Performance in Our Lost Decade 43
Chapter 4 A Change is Gonna Come 51

Part II: Convertibles, a Better Solution
Chapter 5 The Very Basics 61
Chapter 6 Reminiscences of a Convertible Operator 69
Chapter 7 A Quick Review and Quiz 121
Chapter 8 Enough Already…How Do Convertibles Actually Work? 145
Chapter 9 What to Look for in a Convertible 177
Chapter 10 Convertibles For… 201
I. Individual Investors 201
II. Financial Advisors 213
III. Nontraditional Institutional Investors 217
IV. Corporate Financial Officers 231
V. Students 249
Chapter 11 Introduction to Advanced Topics 257
Suggestions for Further Reading 285
Glossary 287
Index 291


Purchase Info
ISBN-10: 0-13-288599-9
ISBN-13: 978-0-13-288599-7
Format: Safari PTG
This publication is not currently for sale.