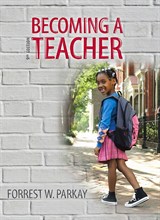 Description
For an undergraduate Introduction to Education and/or Foundations of Education course.
Experts and novices shape a journey through foundational content toward professionalism.
The ninth edition of Becoming a Teacher continues to listen to the voices of those who know – professionals and expert teachers, novices just learning the ropes, students in America's classrooms, and pre-service learners deciding of teaching is their best career path – to help readers discover the answer to the question Is teaching for me?
With the help of these stakeholders, the new edition focuses on teacher quality through deeper attention to:
• teacher leadership, political activism, and change facilitation
• diversity and culturally competent teaching
• social justice and democracy

Table of Contents

Becoming a Teacher, 9th Edition
By Forrest W. Parkay
Contents in Brief
Chapter 1: Teaching: Your Chosen Profession
Chapter 2: Today's Teachers
Chapter 3: Today's Schools
Chapter 4: Philosophical Foundations of U.S. Education
Chapter 5: Historical Foundations of U.S. Education
Chapter 6: Governance and Finance of U.S. Schools
Chapter 7: Ethical and Legal Issues in U.S. Education
Chapter 8: Today's Students
Chapter 9: Addressing Learners' Individual Needs
Chapter 10: Creating A Community of Learners
Chapter 11: Curriculum Standards, Assessment, and Student Learning
Chapter 12: Integrating Technology into Teaching
Chapter 13: Becoming a Professional Teacher
Purchase Info ?
With CourseSmart eTextbooks and eResources, you save up to 60% off the price of new print textbooks, and can switch between studying online or offline to suit your needs.
Once you have purchased your eTextbooks and added them to your CourseSmart bookshelf, you can access them anytime, anywhere.
Buy Access
Becoming a Teacher, CourseSmart eTextbook, 9th Edition
Format: Safari Book
$79.99 | ISBN-13: 978-0-13-275446-0