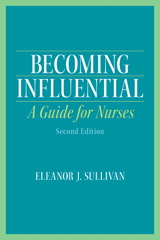 Description
For nursing students in courses ranging from Fundamentals of Nursing to Management and Professional Issues and Roles; will be valuable in programs including BSN, RN, BSN, accelerated BSN, and Masters.
Still the only book of its kind, this intensely practical text helps nurses build the skills they need to gain and use influence throughout their entire careers. This second edition is updated throughout with new information on nursing, health care, and technology — including social media. Readable, timely, and upbeat, BECOMING INFLUENTIAL: A GUIDE FOR NURSES teaches through real-life examples, offering proven advice for using influence to solve many contemporary workplace problems. Self-assessments help readers evaluate their current organizational power, communication and goal-setting skills, negotiating and interviewing expertise, and even their abilities to manage confrontation. The book contains specific steps for career planning, resume building, career progress tracking, speech preparation, and more. Flexible learning activities include role plays, debates, observations, interviews, and networking assignments; up-to-date web and print resources support further exploration.
Table of Contents
PART I. UNDERSTANDING INFLUENCE
1. What Is Influence and Why Do I Need It?
2. Rules of the Game
3. Understanding and Using Your Power
4. The Power of Image
5. Communicating Effectively
6. Why Politics?
PART II. USING INFLUENCE
7. Setting Goals and Making Things Happen
8. Making Connections and Building Coalitions
9. Negotiating for What You Want
10. Dealing with Difficult People and Situations
PART III. PUTTING INFLUENCE TO WORK FOR YOU
11. Enhancing Your Influence
12. Telling Nursing's Story
13. Managing Your Career
14. Balancing Your Life
PART IV. THE FINAL STEPS
15. Preparing Your Successors
16. Leaving Your Legacy
APPENDIX. Ten Little Known Secrets for Success
Purchase Info ?
With CourseSmart eTextbooks and eResources, you save up to 60% off the price of new print textbooks, and can switch between studying online or offline to suit your needs.
Once you have purchased your eTextbooks and added them to your CourseSmart bookshelf, you can access them anytime, anywhere.
Buy Access
Becoming Influential: A Guide for Nurses, CourseSmart eTextbook, 2nd Edition
Format: Safari Book
$17.99 | ISBN-13: 978-0-13-298765-3