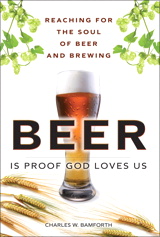 Description
Beer Is Proof God Loves Us
is a funny, engaging, and downright joyous examination of the whole world of beer and brewing. Your guide, Charlie Bamforth, may be the world's #1 expert on every aspect of beer: After a worldwide search, he was selected as the first Anheuser-Busch Professor of Brewing Science at the University of California, Davis. Now, he presents the most compelling social history of beer ever written: where it's come from, where the brewing business stands now, and what the future holds. In this far-reaching book, he reveals
The extraordinary complexity and artistry that can be found in great brewing.
The factors that impact beer quality and wholesomeness.
Centuries-old cultural values embedded in good beer.
Bamforth also explains what the rise of new craft breweries means to beer drinkers and what the latest global trends will have on beer consumption. The book concludes with a look to the future, illustrating how environmental issues will change the brewing industry and addressing radical new approaches to brewing, such as Happoshu and malternatives.
Table of Contents
Preface xiii
Introduction xv
Chapter 1: Global Concerns 1
Chapter 2: The Not-So-Slow Death of a Beer Culture 23
Chapter 3: Barbican, Balls, and Beyond 39
Chapter 4: On The Other Hand: The Re-Birth of a Beer Ethos 49
Chapter 5: So What Is Quality? 65
Chapter 6: Despite the Odds: Anti-Alcohol Forces 79
Chapter 7: Societal Issues 93
Chapter 8: Looks Good, Tastes Good, and… 101
Chapter 9: Whither Brewing? 115
Chapter 10: God in a Glass 123
Conclusion 129
Endnotes 133
Appendix A: The Basics of Malting and Brewing 213
Appendix B: Types of Beer 219
About the Author 223
Index 225