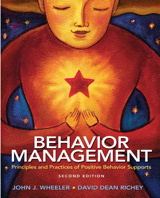 Description
This text provides the best of behavior analysis and positive behavior supports (PBS) available in a text, with the main goal of helping teachers achieve optimal behavioral and learning outcomes for the students they teach—regardless of the degree of challenging behavior exhibited. The authors address the needs of learners with disabilities, but also emphasize the relevance of PBS for all children and youth. The text uses strategically placed case-style vignettes, embedded within each chapter, to assist readers in learning important principles and how they apply to practice. Additionally, the text is abundant in key topics including: reinforcing the principles of PBS applied to practice such as engineering environments, functional behavior assessment, and antecedent management strategies; giving thorough treatment in communicating the emergence of PBS from ABA; the depiction of PBS as the model of choice in working with children who experience challenging behavior; ethics and the role of families in the delivery of PBS, and the role of families as partners in education; demonstrates key principles in practice in actual classrooms with real learners;and features the most current and empirical-based research in the field. Behavior Management: Principles and Practices of Positive Behavior Supports, Second Edition has been thoroughly updated and revised, reflecting only the most recent and important changes and updates to the field.
Table of Contents
1. Understanding Behavior in Children and Youth.

2. Partnering with Families.

3. Ensuring Ethical Practices in the Delivery of Positive Behavior Supports.

4. Prevention of Challenging Behavior

5. Understanding Functional Behavior Assessment.

6. Single-Subject Design

7. Planning Behavior Support.

8. Evaluating Positive Behavior Supports.

9. Using Reinforcement to Increase Appropriate Behavior.

10. Teaching Positive Alternative Behaviors.

11. Reducing Challenging Behavior.

12. Developing Self-Determination Skills.