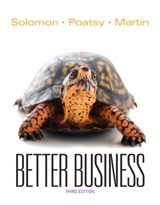 Description
For Introduction to Business courses.
Better Business—a better experience for students and instructors!
Better Business offers the business content students need, but in a better way. By presenting the material in a stimulating Q&A format, Better Business encourages students to come to class prepared to have better conversations and a truly engaging classroom experience.
Table of Contents
PART I. LOOKING AT THE BUSINESS ENVIRONMENT.
1. Business Basics
2. Economics and Banking
3. Ethics in Business
4. Business in a Global Economy
Mini Chapter 1. Business Law
PART II. STARTING AND STRUCTURING A BUSINESS
5. Small Business and the Entrepreneur
6. Forms of Business Ownership
Mini Chapter 2. Constructing an Effective Business Plan
PART III. MANAGING A BUSINESS AND EMPLOYEES
7. Business Management and Organization
8. Motivation, Leadership, and Teamwork
9. Human Resource Management
10. Online Business and Technology
11. Production, Operations, and the Supply Chain
Mini Chapter 3. Business Communications
PART III. PRINCIPLES OF MARKETING
12. Marketing and Consumer Behavior
13.Product Development and Pricing Strategies
14. Promotion and Distribution
Mini Chapter 4. Finding a Job
PART IV. PRINCIPLES OF FINANCE
15. Financing and Tracking Business Operations
16. Investment Opportunities in the Securities Market
Mini Chapter 5. Personal Finance
Appendix
Reference Notes
Glindex
Answer Key
Purchase Info ?
With CourseSmart eTextbooks and eResources, you save up to 60% off the price of new print textbooks, and can switch between studying online or offline to suit your needs.
Once you have purchased your eTextbooks and added them to your CourseSmart bookshelf, you can access them anytime, anywhere.
Buy Access
Better Business, CourseSmart eTextbook, 3rd Edition
Format: Safari Book
$60.99 | ISBN-13: 978-0-13-305908-3