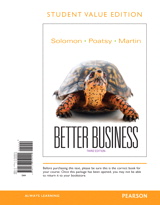 Description
Directed primarily toward undergraduate business college/university majors, this text also provides practical content to current and aspiring industry professionals.
Better Business offers the business content aspiring professionals need, but in a better way. By presenting the material in a stimulating Q&A format, Better Business encourages readers to fully engage with the materials and understand rather than memorize key concepts.
0133098796 / 9780133098792 Better Business Plus MyBizLab with Pearson eText -- Access Card Package
Package consists of
0133059049 / 9780133059045 Better Business
0133059448 / 9780133059441 MyBizLab with Pearson eText -- Access Card -- for Better Business
Table of Contents
PART I. LOOKING AT THE BUSINESS ENVIRONMENT.
1. Business Basics
2. Economics and Banking
3. Ethics in Business
4. Business in a Global Economy
Mini Chapter 1. Business Law
PART II. STARTING AND STRUCTURING A BUSINESS
5. Small Business and the Entrepreneur
6. Forms of Business Ownership
Mini Chapter 2. Constructing an Effective Business Plan
PART III. MANAGING A BUSINESS AND EMPLOYEES
7. Business Management and Organization
8. Motivation, Leadership, and Teamwork
9. Human Resource Management
10. Online Business and Technology
11. Production, Operations, and the Supply Chain
Mini Chapter 3. Business Communications
PART III. PRINCIPLES OF MARKETING
12. Marketing and Consumer Behavior
13.Product Development and Pricing Strategies
14. Promotion and Distribution
Mini Chapter 4. Finding a Job
PART IV. PRINCIPLES OF FINANCE
15. Financing and Tracking Business Operations
16. Investment Opportunities in the Securities Market
Mini Chapter 5. Personal Finance
Appendix
Reference Notes
Glindex
Answer Key