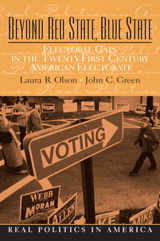 Description
Beyond Red State and Blue State: Electoral Gaps in the 21st Century American Electorate explores the many demographic gaps that exist within the American electorate.
This book is designed to explore the most important voting gaps in American politics today. It shows that twenty-first-century Americans are divided on a wide range of political fronts that go far beyond the somewhat simplistic "red state, blue state" rubric that has become so popular in American political discourse. Reality is far more complex. The authors capture and explain this complexity through a collection of chapters by leading scholars of a range of voting gaps, including racial/ethnic gaps, the marriage gap, the worship attendance gap, the income/class gap, the rural/urban gap, the gender gap, and the generation gap. Also included is a chapter by a leading political pollster and strategist, Anna Greenberg, on how campaigns use information about voting gaps.
Table of Contents
List of Tables and Figures
Preface
About the Contributors
Chapter 1: "Gapology" and the 2004 Presidential Vote
by John C. Green and Laura R. Olson
"Gapology" and the 2004 Presidential Vote
Piecing the Gaps Together
The Plan of the Book
Notes
Chapter 2: Racial and Ethnic Gaps
by Harwood K. McClerking
Group Identification and Group-Based Heuristics
A History of Groups in Politics
The Significance of Groups in Politics: The Case of African Americans
Group-Based Heuristics and African American Politics
Making Sense of Heuristics
Expectations on the Future of Racial/Ethnic Electoral Gaps
Notes
Chapter 3: The Marriage Gap
by Amy R. Gershkoff
The Different Political Worlds of Married and Unmarried America
The Rise of Unmarried America and the Changing American Family
A Tale of Two Cohorts
Causes of the Marriage Gap
Political Mobilization
The Future of the Marriage Gap and Related Research
Notes
Chapter 4: The Worship Attendance Gap
by Laura R. Olson and John C. Green
The Sociological Roots of the Worship Attendance Gap
The Political Roots of the Worship Attendance Gap
The Emergence of the Worship Attendance Gap
The Worship Attendance Gap in 2004
Will the Worship Attendance Gap Persist in the Future?
Notes
Chapter 5: The Class Gap
by Hector L. Ortiz and Jeffrey M. Stonecash
The Development of Class Analyses
The Evidence on Class Divisions
Class Divisions in American Politics
Constraints on Class Divisions
Culture Wars and Class Divisions
Income and Abortion Views
Conclusion
Notes
Chapter 6: The Rural-Urban Gap
by James G. Gimpel and Kimberly A. Karnes
Urban Voters and Democratic Loyalty
Rural Voters and Republican Loyalty
Sources of Urban-Rural Division in Place-Based Stereotypes
Economic Change and the Experience of Economic Change
Entrepreneurial Self-Images and Private Property
Weeding out the Failures: Labor Market Migration
Conclusion
Notes
Chapter 7: The Gender Gap
by Karen M. Kaufmann
The History of the Modern Gender Gap: 1952 to 2004
The Gender Gap in 2004
Conclusion
Notes
Chapter 8: The Generation Gap
by Anand Edward Sokhey and Paul A. Djupe
Age Groups, Socialization, and the Study of Generations
The Generation Gap in the Presidential Vote
The Generation Gap in 2004
Explaining the Generation Gap in 2004
Conclusion
Notes
Chapter 9: Targeting and Electoral Gaps
byAnna Greenberg
Targeting Base Supporters and Persuadable Voters
Defining Voters
Using Targeting Information
Micro-Targeting
Conclusion
Notes
Index