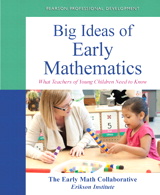 Description
Note: The Enhanced eText features are only available in the Pearson eText format. They are not available in third-party eTexts or downloads, such as CourseSmart.
Here are the "Big Ideas" in early mathematics—from an outstanding team of devoted early childhood specialists! In this unique guide, classroom teachers, coaches, curriculum coordinators, college students, and teacher educators get a practical look at the foundational concepts and skills of early mathematics, and see how to implement them in their early childhood classrooms.
Big Ideas of Early Mathematics presents the skills educators need to organize for mathematics teaching and learning during the early years. For teachers of children ages three through six, the book provides foundations for further mathematics learning and helps facilitate long-term mathematical understanding.
Table of Contents
Preface
Introduction
Chapter 1
SETS: Using Attributes to Make Collections
Chapter 2
NUMBER SENSE: Developing a Meaningful Sense of Quantity
Chapter 3
COUNTING: More than Just 1, 2, 3
Chapter 4
NUMBER OPERATIONS: Every Operation Tells a Story
Chapter 5
PATTERN: Recognizing Repetition and Regularity
Chapter 6
MEASUREMENT: Making Fair Comparisons
Chapter 7
DATA ANALYSIS: Asking Questions and Finding Answers
Chapter 8
SPATIAL RELATIONSHIPS: Mapping the World Around Us
Chapter 9
SHAPE: Developing Definitions
Conclusion
Appendix A Big Ideas Charts