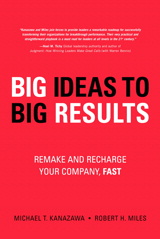 Description
Why do most corporations fail to achieve breakthrough performance? They make things too complex. They clutter it with jargon and confusion. They dither on the launch pad. They hire too many consultants, chase after too many fads. It doesn't have to be that complicated. Whatever your goal, whatever your role, Michael T. Kanazawa and Robert H. Miles introduce a simple, practical, 100% results- driven approach that works. Drawing on their experience working with hundreds of senior executives, they show how to align your organization behind just a few core initiatives; bias your people toward speed; create leaders at every level; and achieve traction and accountability in all facets of execution. You'll learn how to engage people instead of frustrating them, and harness their energy instead of wasting it. Whether you're executing a new initiative, entering a new market, or attempting to transform your entire enterprise, this book will help you find the right path, clear the obstacles, and get there—surely and quickly.
Today's companies recognize that they must constantly improve at every level, from frontline customer-facing functions to enterprise-wide strategy. They must execute bold new strategic initiatives more effectively... integrate and align acquisitions more quickly...and accelerate and sustain growth in the face of unprecedented competition. But wherever business transformation and breakthrough performance must occur, many of the challenges are the same.
Now, there's a breakthrough methodology for overcoming these challenges. In BIG Ideas to BIG Results, Michael T. Kanazawa and Robert H. Miles introduce the Accelerated Corporate Transformation (ACT) methodology: A simple, no-nonsense process that is grounded in reality, inclusive of people, and 100% results-oriented.
Drawing on over twenty years refining and applying ACT, initially at Harvard Business School and then in leading enterprises, Kanazawa and Miles identify crucial steps to success, as well as practical solutions to the inevitable roadblocks you'll face. Their #1 insight: Many obstacles stem from managers making situations and decisions more complex than they really are, and taking too much time to get ready. ACT strips away complexity and indecision, helping you move far more rapidly and predictably from strategy development through execution. Designed by leaders for leaders, this book will help you execute more rapidly and lead more effectively, to achieve breakthrough performance at any level, in any function, in any organization.
Step-by-step, leader-driven techniques that work–simply and quickly
Business transformation and breakthrough performance without the confusion and complexity

What leaders must know–and do–to succeed
Making it happen from the inside out–without hordes of consultants

Conquer "corporate gridlock" at last
Stay focused on what really matters, instead of bouncing from one initiative to the next

Rapidly engage the full organization...
...to power up leadership at every level
Table of Contents
Chapter 1: A Better Way 1
The Sugar High 3
Get Your ACT Together 6
Make Transformation a Simple Routine 9
Endnotes 11
Chapter 2: Breaking Through Gridlock 13
Gridlock! The Task Overload Epidemic 13
Where Did All of This Clutter Come From? 14
The New Definition of Big Box Retail 15
Task Overload Undermines Accountability 16
One Company–Not Many 18
Busting Through Gridlock: Getting Started 19
The Leader's Challenge: Less Is More 20
Fighting Fires Versus Fire Prevention 23
Endnotes 24
Chapter 3: Creating Safe Passage 25
Safe Passage–A Clear Transformation Process 25
The ACT Process Basics: Powerfully Simple 28
This Is Not a New Religion, Just a Better
Way of Managing the Business 30
Endnotes 32
Chapter 4: Confronting Today's Reality 33
The Emperor's Ugly Clothes 35
Dialogue Versus Discussion 36
Generating Dialogue as a Leader 37
Priming the Pump 39
Canary in a Coal Mine 41
On the Outside Looking In 44
Talk with Customers and Noncustomers 47
You Are Here: Map the Market 48
Confronting Reality Work Session 52
Endnotes 54
Chapter 5: Sharpening the Strategy Arrow 55
A One-Page View of the Future 56
Creating a Strategic Vision 60
Business Success Modeling 63
Due Diligence on Yourself 65
Endnotes 71
Chapter 6: Absolute Alignment 73
Translation to Three Corporate Initiatives 74
Have You Lost Your Marbles? 76
What NOT to Do 78
Restack the Whole 80
Individual Commitments to Action 83
Alignment of Commitments–Reducing Silos 84
Alignment of Values 87
Put Your Money Where Your Mouth Is 89
The Bottom Line on Alignment 90
Endnotes 93
Chapter 7: Rapidly Engaging the Full Organization 95
It's All about the Results 96
Quantum Jumps 98
"Back in Black" Friday 99
Employee Engagement Is Not Barbeque 100
High-Engagement 101
Hear It from My Boss 102
Unbounded, But Grounded in Reality 102
Putting It All Together 104
Reaching Scale and Speed 109
Lighting 1,000 Fires Only Gets You Burned 110
Endnotes 112
Chapter 8: Productive Speed 113
Get the Train Moving, Now 113
The Benefits of Productive Speed 116
All Aboard at Internet Speed 118
Designing the Process for Speed 121
The No-Slack Launch 123
Quick Starts 127
How Do You Keep Time? 131
Speed as a Leadership Discipline 133
Endnotes 134
Chapter 9: Creating Leadership Power at All Levels 135
The Power Curve 136
The Under-Powered Organization 137
Shifting Up the Power Curve 137
Executive Management 138
Middle Management 141
A Real High Flyer 142
Front-Line Managers 143
Big Ideas from within the Team 145
Sharing Power Creates Power 147
Endnotes 148
Chapter 10: Building Operational Traction 149
Commit with Confidence, Publicly 150
Building Traction 151
Accountability 156
Simple Closed-Loop Accountability 156
Promises Versus Declarations 160
Don't Get Overly Fixated on the Dashboard 164
Misguided Incentives 168
Performance Coaching 171
Endnotes 173
Chapter 11: Over the Hump and Into the Slump 175
Post-Launch Blues 178
Mid-Course Adjustment 181
The Process Is Not a One-Time Overlay 182
Mini-Cascades 184
Launching the New Year 187
Oh Right, the Behaviors 191
You Don't Get to Relax 192
Plan to Punctuate the Equilibrium Regularly 192
Endnotes 194
Chapter 12: Are You Up to the Challenge? 195
White-Hot Commitment of the Leader 196
Change the People, or Change the People 197
You Don't Have All the Answers (And Nobody Expects You To) 201
Get Real 203
Go For It! 204
Endnotes 205
Afterword 207
Acknowledgments 217
About the Authors 221
Index 225