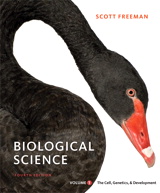 Description
Supports and motivates you as you learn to think like a biologist.
Building upon Scott Freeman's unique narrative style that incorporates the Socratic approach and draws you into thinking like a biologist, the Fourth Edition has been carefully refined to motivate and support a broader range of learners as they are introduced to new concepts and encouraged to develop and practice new skills. Each page of the book is designed in the spirit of active learning and instructional reinforcement, equipping novice learners with tools that help them advance in the course–from recognizing essential information in highlighted sections to demonstrating and applying their understanding of concepts in practice exercises that gradually build in difficulty.
Table of Contents
1. Biology and the Tree of Life
2. Water and Carbon: The Chemical Basis of Life
3. Protein Structure and Function
4. Nucleic Acids and the RNA World
5. An Introduction to Carbohydrates
6. Lipids, Membranes, and the First Cells
7. Inside the Cell
8. Cell-Cell Interactions
9. Cellular Respiration and Fermentation
10. Photosynthesis
11. The Cell Cycle
12. Meiosis
13. Mendel and the Gene
14. DNA and the Gene: Synthesis and Repair
15. How Genes Work
16. Transcription, RNA Processing, and Translation
17. Control of Gene Expression in Bacteria
18. Control of Gene Expression in Eukaryotes
19. Analyzing and Engineering Genes
20. Genomics
21. Principles of Development
22. An Introduction to Animal Development
23. An Introduction to Plant Development
This title is also sold in the various packages listed below. Before purchasing one of these packages, speak with your professor about which one will help you be successful in your course.
Purchase Info
Digital Choices
eTextbook ?
With CourseSmart eTextbooks and eResources, you save up to 60% off the price of new print textbooks, and can switch between studying online or offline to suit your needs.
Once you have purchased your eTextbooks and added them to your CourseSmart bookshelf, you can access them anytime, anywhere.