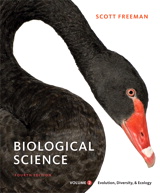 Description
Supports and motivates you as you learn to think like a biologist.
Building upon Scott Freeman's unique narrative style that incorporates the Socratic approach and draws you into thinking like a biologist, the Fourth Edition has been carefully refined to motivate and support a broader range of learners as they are introduced to new concepts and encouraged to develop and practice new skills. Each page of the book is designed in the spirit of active learning and instructional reinforcement, equipping novice learners with tools that help them advance in the course–from recognizing essential information in highlighted sections to demonstrating and applying their understanding of concepts in practice exercises that gradually build in difficulty.
Table of Contents
1. Biology and the Tree of Life
24. Evolution by Natural Selection
25. Evolutionary Processes
26. Speciation
27. Phylogenies and the History of Life
28. Bacteria and Archaea
29. Protists
30. Green Algae and Land Plants
31. Fungi
32. An Introduction to Animals
33. Protostome Animals
34. Deuterostome Animals
35. Viruses
50. An Introduction to Ecology
51. Behavioral Ecology
52. Population Ecology
53. Community Ecology
54. Ecosystems
55. Biodiversity and Conservation
Purchase Info
ISBN-10: 0-321-60530-6
ISBN-13: 978-0-321-60530-6
Format: Alternate Binding
Digital Choices ?
MyLab & Mastering with Pearson eText is a complete digital substitute for a print value pack at a lower price.
eTextbook ?
With CourseSmart eTextbooks and eResources, you save up to 60% off the price of new print textbooks, and can switch between studying online or offline to suit your needs.
Once you have purchased your eTextbooks and added them to your CourseSmart bookshelf, you can access them anytime, anywhere.