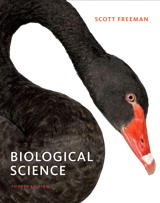 Description
Building upon Scott Freeman's unique narrative style that incorporates the Socratic approach and draws students into thinking like a biologist, the
Fourth Edition
has been carefully refined to motivate and support a broader range of learners as they are introduced to new concepts and encouraged to develop and practice new skills. Each page of the book is designed in the spirit of active learning and instructional reinforcement, equipping novice learners with tools that help them advance in the course—from recognizing essential information in highlighted sections to demonstrating and applying their understanding of concepts in practice exercises that gradually build in difficulty.
The new edition makes it easier than ever for students to locate information and learn concepts, with:
Remarkable "Big Picture" concept maps that help students synthesize information across chapters
A complete answer key in the back of the book
More concise discussions on selected topics with a clearer sub-heading structure for easier navigation
A finely tuned art program with improved clarity and contrast among biology structures and an improved orientation for phylogenetic trees
An expanded BioSkills appendix at the end of the book helps students learn and practice foundational skills, which range from interpreting graphs to how to read a phylogenetic tree to common Latin and Greek word roots, and reading chemical structures.
CourseSmart textbooks do not include any media or print supplements that come packaged with the bound book.
Table of Contents
1. Biology and the Tree of Life
36. Plant Form and Function
37. Water and Sugar Transport in Plants
38. Plant Nutrition
39. Plant Sensory Systems, Signals, and Responses
40. Plant Reproduction
41. Animal Form and Function
42. Water and Electrolyte Balance in Animals
43. Animal Nutrition
44. Gas Exchange and Circulation
45. Electrical Signals in Animals
46. Animal Sensory Systems and Movement
47. Chemical Signals in Animals
48. Animal Reproduction
49. The Immune System in Animals
Purchase Info ?
With CourseSmart eTextbooks and eResources, you save up to 60% off the price of new print textbooks, and can switch between studying online or offline to suit your needs.
Once you have purchased your eTextbooks and added them to your CourseSmart bookshelf, you can access them anytime, anywhere.
Buy Access
Biological Science Volume 3, CourseSmart eTextbook, 4th Edition
Format: Safari Book
$29.99 | ISBN-13: 978-0-321-70395-8