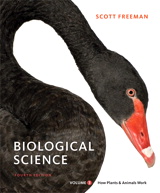 Components of the Package:
MasteringBiology with Pearson eText -- ValuePack Access Card -- for Biological Science, 4th Edition
By Scott Freeman
Biological Science Volume 3, 4th Edition
By Scott Freeman
Description
Supports and motivates you as you learn to think like a biologist.
Building upon Scott Freeman's unique narrative style that incorporates the Socratic approach and draws you into thinking like a biologist, the Fourth Edition has been carefully refined to motivate and support a broader range of learners as they are introduced to new concepts and encouraged to develop and practice new skills. Each page of the book is designed in the spirit of active learning and instructional reinforcement, equipping novice learners with tools that help them advance in the course–from recognizing essential information in highlighted sections to demonstrating and applying their understanding of concepts in practice exercises that gradually build in difficulty.
New to Freeman's MasteringBiology® online tutorial and assessment system are ten classic experiment tutorials and automatically-graded assignment options that are adapted directly from content and exercises in the book.
Package Components:
Biological Science, Volume 3, Fourth Edition

MasteringBiology with Pearson eText Student Access Kit
Table of Contents
1. Biology and the Tree of Life
36. Plant Form and Function
37. Water and Sugar Transport in Plants
38. Plant Nutrition
39. Plant Sensory Systems, Signals, and Responses
40. Plant Reproduction
41. Animal Form and Function
42. Water and Electrolyte Balance in Animals
43. Animal Nutrition
44. Gas Exchange and Circulation
45. Electrical Signals in Animals
46. Animal Sensory Systems and Movement
47. Chemical Signals in Animals
48. Animal Reproduction
49. The Immune System in Animals
This title is also sold in the various packages listed below. Before purchasing one of these packages, speak with your professor about which one will help you be successful in your course.
Package ISBN-13: 9780321781888
Includes this title packaged with:
Current Issues in Biology Volume 5
Scientific American
$88.93 | Add to Cart
Purchase Info
Print Choices
Alternative Options ?
Click on the titles below to learn more about these options.