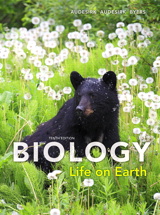 Description
Biology: Life on Earth with Physiology, Tenth Edition continues this book's tradition of engaging non-majors biology students with real-world applications and inquiry-based pedagogy that fosters a lifetime of discovery and scientific literacy.
Biology: Life on Earth with Physiology, Tenth Edition maintains the friendly writing style the book is known for and continues to incorporate true and relevant stories in every chapter in the form of the Case Study, Case Study Continued, and Case Study Revisited features. New to the Tenth Edition are Learning Goals and Check Your Learning, both of which help students to assess their understanding of the core concepts in biology. This new edition includes an increased focus on health science: Health Watch essays are included throughout units, and more anatomy & physiology content has been incorporated into the main narrative. Several of the popular, inquiry-based features, including Consider This and Have You Ever Wondered?, are new or refreshed. With this Tenth Edition, the authors continue to emphasize application with new or revised essays in
Earth Watch, Science in Action, In Greater Depth, and Links to Everyday Life features.
For coverage of plant and animal anatomy & physiology, an alternate edition—Biology: Life on Earth with Physiology, Tenth Edition—is also available.
Table of Contents
1. An Introduction to Life on Earth
I. THE LIFE OF THE CELL
2. Atoms, Molecules, and Life
3. Biological Molecules
4. Cell Structure and Function
5. Cell Membrane Structure and Function
6. Energy Flow in the Life of a Cell
7. Capturing Solar Energy: Photosynthesis
8. Harvesting Energy: Glycolysis and Cellular Respiration
II. INHERITANCE
9. The Continuity of Life: Cellular Reproduction
10. Patterns of Inheritance
11. DNA: The Molecule of Heredity
12. Gene Expression and Regulation
13. Biotechnology
III. EVOLUTION AND DIVERSITY OF LIFE
14. Principles of Evolution
15. How Populations Evolve
16. The Origin of Species
17. The History of Life
18. Systematics: Seeking Order Amid Diversity
19. The Diversity of Prokaryotes and Viruses
20. The Diversity of Protists
21. The Diversity of Plants
22. The Diversity of Fungi
23. Animal Diversity I: Invertebrates
24. Animal Diversity II: Vertebrates
IV. BEHAVIOR AND ECOLOGY
25. Animal Behavior
26. Population Growth and Regulation
27. Community Interactions
28. Energy Flow and Nutrient Cycling in Ecosystems
29. Earth's Diverse Ecosystems
30. Conserving Earth's Biodiversity
V. ANIMAL ANATOMY AND PHYSIOLOGY
31. Homeostasis and the Organization of the Animal Body
32. Circulation
33. Respiration
34. Nutrition and Digestion
35. The Urinary System
36. Defense Against Disease
37. Chemical Control of the Animal Body: The Endocrine System
38. The Nervous System
39. The Senses
40. Action and Support: The Muscles and Skeleton
41. Animal Reproduction
42. Animal Development
VI. PLANT ANATOMY AND PHYSIOLOGY
43. Plant Anatomy and Nutrient Transport
44. Plant Reproduction and Development
45. Plant Responses to the Environment
Biology Life on Earth, Tenth Edition includes Chapters 1–30
Biology Life on Earth with Physiology, Tenth Edition includes Chapters 1–45
Purchase Info
ISBN-10: 0-321-72971-4
ISBN-13: 978-0-321-72971-2
Format: Alternate Binding
Digital Choices ?
MyLab & Mastering with Pearson eText is a complete digital substitute for a print value pack at a lower price.
MyLab & Mastering ?
MyLab & Mastering products deliver customizable content and highly personalized study paths, responsive learning tools, and real-time evaluation and diagnostics. MyLab & Mastering products help move students toward the moment that matters most—the moment of true understanding and learning.
+ Other Options
eTextbook ?
With VitalSource eTextbooks, you save up to 60% off the price of new print textbooks, and can switch between studying online or offline to suit your needs.
Access your course materials on iPad, Android and Kindle devices with VitalSource Bookshelf, the textbook e-reader that helps you read, study and learn brilliantly. Features include:
See all of your eTextbooks at a glance and access them instantly anywhere, anytime from your Bookshelf - no backpack required.
Multiple ways to move between pages and sections including linked Table of Contents and Search make navigating eTextbooks a snap.
Highlight text with one click in your choice of colors. Add notes to highlighted passages. Even subscribe to your classmates' and instructors' highlights and notes to view in your book.
Scale images and text to any size with multi-level zoom without losing page clarity. Customize your page display and reading experience to create a personal learning experience that best suits you.
Print only the pages you need within limits set by publisher
Supports course materials that include rich media and interactivity like videos and quizzes
Easily copy/paste text passages for homework and papers
Supports assistive technologies for accessibility by vision and hearing impaired users
Print Choices
Loose Leaf Version ?
Books a la Carte are less-expensive, loose-leaf versions of the same textbook.