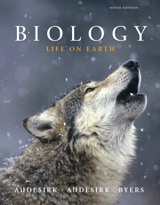 Description
This edition features the exact same content as the traditional text in a convenient, three-hole- punched, loose-leaf version. Books à la Carte also offer a great value—this format costs 35% less than a new textbook.
Known for its thorough coverage of diversity, ecology, and environmental issues, this comprehensive book engages you with integrated, relevant case studies, and challenges you with thought-provoking questions throughout each chapter.
The fully revised Biology: Life on Earth, Ninth Edition, has the same friendly writing style appreciated by thousands of students, but with greater emphasis on engaging, real-world applications. New to this edition are "Case Study Continued" sections, which connect a chapter's case study to relevant biological topics covered in the chapter, and "Have you ever wondered?" features that respond to commonly asked questions from students. Thoroughly revised illustrations and expanded critical thinking questions have been added to each chapter.
For coverage of plant and animal anatomy & physiology, an alternate edition—Biology: Life on Earth with Physiology, Ninth Edition—is also available.
Table of Contents
1. An Introduction to Life on Earth
I. THE LIFE OF A CELL
2. Atoms, Molecules, and Life
3. Biological Molecules
4. Cell Structure and Function
5. Cell Membrane Structure and Function
6. Energy Flow in the Life of a Cell
7. Capturing Solar Energy: Photosynthesis
8. Harvesting Energy: Glycolysis and Cellular Respiration
II. INHERITANCE
9. The Continuity of Life: Cellular Reproduction
10. Patterns of Inheritance
11. The Molecule of Heredity
12. Gene Expression and Regulation
13. Biotechnology
III. EVOLUTION
14. Principles of Evolution
15. How Populations Evolve
16. The Origin of Species
17. The History of Life
18. Systematics: Seeking Order Amidst Diversity
19. The Diversity of Prokaryotes and Viruses
20. The Diversity of Protists
21. The Diversity of Plants
22. The Diversity of Fungi
23. Animal Diversity I: Invertebrates
24. Animal Diversity II: Vertebrates
IV. BEHAVIOR AND ECOLOGY
25. Animal Behavior
26. Population Growth and Regulation
27. Community Interactions
28. How Do Ecosystems Work?
29. Earth's Diverse Ecosystems
30. Conserving Earth's Biodiversity